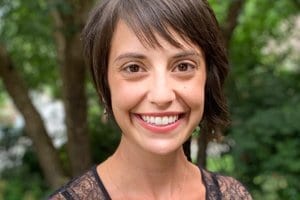 Having joined Dentistry at East Piedmont in August of 2019, Dr. Levine's friendly demeanor and expertise in dentistry quickly made her a treasured member of our dental family. Read on to learn more about the esteemed Dr. Dahlia Levine!
Destined for Dentistry
Dr. Dahlia Levine's love for dentistry was sparked by influential figures in her youth. Growing up, Dahlia was a dental patient of a kind neighbor. Her positive experiences with him and his practice were impressionable enough for Dahlia to know at an early age that she herself wanted to become a dentist in the future.
Her aspirations only heightened in middle school when an innovative teacher sparked a passion for science. Fascinated by the subject and already interested in the field of dentistry, Dr. Levine immediately pursued her dream where she could marry her fervor for science, art and healthcare.
Above and Beyond
Dr. Levine began her journey towards the renowned dentist she is today at Georgia State University, where she served as Student President of the Honors College. After receiving her Biology degree, Dr. Levine furthered her expertise at the Dental College of Georgia at Augusta University, where she was valedictorian of her class. Dr. Levine then completed an Advanced Education in General Dentistry residency at the VA in Augusta where she underwent in-depth training in oral surgery, implant therapy and complex restorative work.
It's not just academically that Dr. Levine has excelled, though. In 2015, she co-founded Comprehensive Oral Health Promotion and Education (COPE), a non-profit that helps cancer patients address the oral health ramifications of treatment. She received the American Red Cross Educator Hero award for these efforts in 2018.
A Place to Call Home
When a mentor introduced her to Dr. Patel, Dr. Levine immediately knew that Dentistry at East Piedmont was the place for her. Our Marietta dental practice's comprehensive care offerings struck a chord with Dr. Levine. Here she is thrilled to be able to help patients achieve both optimal oral health and the smile aesthetics of their dreams.
Creative Pursuits
When Dr. Levine isn't creating beautiful smiles, she enjoys partaking in creative hobbies such as music and crafting. Dr. Levine met her husband playing in a band, and the two make an effort to play music together as often as they can. The pair's love of music even rubbed off on their daughter, who has quickly made the drum her favorite toy to play.
Dr. Levine's favorite part of being a dentist is the personal relationships she builds with her patients. She is always mindful of patients' distinctive goals, cosmetic or health-related, and uses this insight to create customized treatment plans that meet a patient's specific needs. Book a free consultation with Dr. Levine today to see how her expertise and individualized care can transform your smile!