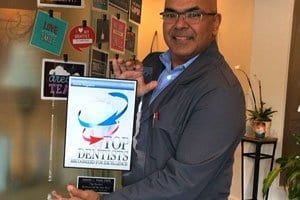 Every year, Atlanta Magazine puts together a list of the best dentists in the Atlanta area, covering various specialties and dentistry categories. This year, Atlanta Magazine recognized our very own Dr. Ashish Patel as one of 2018's Top Dentists in Atlanta.
Individualized Dental Care
With 15+ years of professional dentistry experience, Dr. Patel is passionate about providing the best care for his patients with a personal touch. Dr. Patel's appreciation for dentistry began at an early age, and he has dedicated himself to educating himself on all the latest in dental health ever since. 
"I want every person who walks through our doors to know I'm making a pledge to help them achieve a lifetime of beautiful, healthy smiles," says Dr. Patel.
As an experienced cosmetic and general dentist, Dr. Patel is a kind, careful and attentive dentistry professional. He is especially well-known for his smile makeover transformations and restorative same-day crown procedures.
The Dentistry at East Piedmont Difference
So what makes Dentistry at East Piedmont one of the best practices in the Atlanta area? The biggest thing that sets us apart from other dentists is our dedication to patient comfort.
Not only do we provide a comprehensive list of services that yield great results, but we do so while putting a special focus on ensuring our patients have the best experience possible. Our Marietta dental spa features a relaxing environment with plenty of complimentary amenities, such as noise canceling headphones and cozy blankets, to put our patients at ease. We also keep up to date with the latest dental technology to make every procedure as painless as possible.
Patient Feedback
Don't just take Atlanta Magazine's word for it; check out our patient reviews, too! Here's what some of our patients have to say about Dr. Patel and our practice.