My East Cobb magazine's "Best of 2023" contest! 
1. Click the "Vote Now" Button
2. Follow the on-screen instructions
3. Scroll to and click on Dentistry at East Piedmont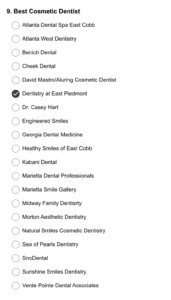 *IMPORTANT: You must click the "vote" button at the bottom of the last page or your vote will not be counted. 

Come back tomorrow! You can vote once per day, per email