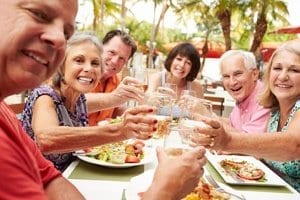 Cosmetic dental procedures are considered different than general dentistry or restorative dentistry procedure in that they are elective and not required.
Cosmetic dentistry has the added element of art, while also combining the oral health benefits of general and restorative dentistry, to give patients the smile they have always dreamed of having.
Cosmetic Dental Procedures and Treatments: Advances in Technology
Today, the latest advancements in cosmetic dentistry technology allow dentists to use materials that are better than ever before. The materials are durable while remaining aesthetically pleasing. Giving a natural appearance, porcelain or composite materials can now best match the original look and feel of your smile.
Cosmetic dentistry has also embraced using less invasive techniques to conserve as much natural tooth as possible. Combine that with advancements with natural looking materials, and you get cosmetic dental treatments that are much more comfortable and practical than they used to be.
Dental Implants
Dental implants are used to replace missing teeth for a natural look and feel. They are long-term replacements that your cosmetic dentist places in the jawbone. Implants can be a healthy solution for people of all ages, except children. And they are also an excellent alternative to dentures or partials.
Dental Bonding
Using a high-intensity curing light, tooth bonding is the application of a tooth-colored resin material with adhesives. Typically used for cosmetic purposes, bonding helps to improve the appearance of a discolored tooth, close gaps or spaces between teeth, or even to change the shape of teeth.
Dentures
Reasonably well known, dentures are used to replace missing teeth that can be taken out and put back into your mouth. There are complete dentures or partial dentures. They are used to ensure patients who suffer from tooth loss don't experience the adverse effects of missing teeth. Dentures can also help them eat and drink most foods and reduce the sagging facial appearance that happens with missing teeth.
Invisalign
As one of the most attractive alternatives to orthodontic appliances, Invisalign employs a transparent tooth aligner that is invisible to the naked eye. People love this product because it allows them to straighten their teeth while not having to endure braces and the stipulations that come with them.
Teeth Whitening
Tooth whitening is one of the most common cosmetic dentistry procedures, mainly because it can significantly improve the appearance of your teeth and doesn't pose as much as an inconvenience as other procedures. However, there are various types of teeth whitening treatments available. They can range from in-office bleaching to take-home kits that take a few weeks.
Veneers
Veneers are ultra-thin shells of tooth-colored materials that are custom made and designed to cover the front surface of teeth. They can correct the look of teeth that are either chipped, discolored, misaligned, or worn down. And the result of a dental veneer treatment is bright and beautifully aligned teeth that look and feel completely natural.
Cosmetic Dentistry in Marietta: Schedule Your Personal Consultation
Cosmetic dentistry offers plenty of different treatments as an opportunity to restore and enhance teeth that suffer from a wide range of effects (including aging, trauma, or general wear-and-tear).
At Dentistry at East Piedmont, we are proud to offer a wide variety of cosmetic dental solutions to help you achieve the smile of your dreams.
However, no two patients are the same. That's why we recommend you contact our office for a free, no-obligation consultation to review your individual needs and goals, so we can help recommend the best way to reach them. Here, you will sit down with one of our highly experienced dentists and, together, you will create a smile plan that aligns with your goals, budget, and timeline to obtain the perfect smile.
If you are interested in learning more about any of our cosmetic procedures or your free smile consultation, please contact us at our office in Marietta today to get started.