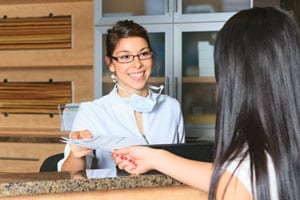 You've probably heard your entire life that, "It's important to visit your dentist at least twice a year." So whether or not you actually follow that advice, it's clear that two annual dental visits are better than one.
But what we aren't ever told is why it's necessary to see your dentist so often.
That's why we decided to dig a little deeper into why it's critical to see your dentist at least twice a year, not only for the quality and maintenance of your teeth but your overall health as well.
1. It Impacts Your Overall Health
The frequency of your dental visits doesn't just mean healthier teeth. One thing you should ask your dentist for is an oral cancer screening. (At Dentistry at East Piedmont, we give every patient that sits in our chair a VelScope Cancer Screening). Also, be sure your dentist checks your neck and lymph nodes for any abnormalities.
The health of both your teeth and mouth can offer signs about the present state of your total overall health. Problems that originate in your mouth may even lead to issues that affect your whole body. Read more from the Mayo Clinic about the connection between your overall and oral health.
2. It Helps Prevent Cavities, Tooth Decay, and Gum Disease
A regular dental checkup is the best way to help prevent cavities and tooth decay.
One major factor in a dental examination is the removal of built-up plaque that you can't remove at home on your own.
The buildup of plaque can also lead to gum disease, so eliminating it helps prevent that. A dentist can also determine if you have any potential cavities on the horizon, so you can take a more proactive approach to treatment, opposed to reactive treatments.
Having your teeth cleaned regularly works to prevent any complicated, expensive treatments down the road.
So, How Many Dental Visits Do You Need?
On average, seeing your dentist twice a year is a good barometer to shoot for – for most people.
If you are at high risk for disease or have a history of getting a lot of cavities, you may need to visit your dentist every three months rather than once or twice a year, especially if you have or fall in the group of:
Smokers or tobacco users
Diabetics
Pregnant women
Currently have weak gums or gum disease
History of tooth decay
Weakened immune system
Some can get by with fewer dental appointments, while others may need more visits for prevention. It's also not a static number for you throughout your lifetime. If you are experiencing a time of high stress or illness, you may need to visit your dentist more frequently.
Ask your dentist the best schedule for your dental routine, and they will be able to walk you through factors that are unique to you (including how well you've been brushing).
Blog originally published August 3, 2017 — updated April 14, 2021.