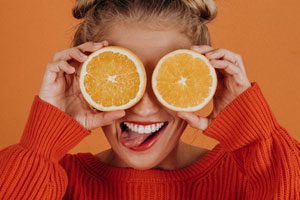 When it comes to your smile, a healthy diet can make all the difference. By incorporating specific foods into your diet, you can help prevent dental issues like gum disease and cavities caused by bacteria.
One unexpected benefit of healthier eating? A brighter smile. These foods help whiten your teeth while you eat, and they're good for you, too!
Fruits
Sweet fruit might not be the first thing that comes to mind when considering foods that may help whiten your teeth. But certain fruits act as a natural stain remedy:
Apples
Apples have a high amount of malic acid, an enzyme that increases saliva production, helping clean and whiten teeth. Just taking a bite out of an apple can cleanse your teeth, so it's the perfect fruit to enjoy after a meal.
Strawberries
Just like apples, strawberries are also full of the malic acid enzyme. For a fun at-home whitening treatment, try putting mashed-up strawberries on your teeth. After five minutes, rinse and brush as usual.
Oranges
Packed with nutrients and vitamin C, oranges are a popular snack choice. But the citrus fruit also contains bromelain, an enzyme that can help break up plaque and even remove surface discoloration.
Veggies
The types of vegetables you eat (and how often you eat them) directly impact your overall health. Over time, these veggies can start to brighten your teeth:
Carrots and Celery
For naturally whiter teeth, try crunchy carrots and celery. Like apples, these veggies produce saliva, which can help prevent plaque from building up in your mouth to attract stains. With every crunch, the veggies cleanse your teeth.
Nuts and Seeds
A terrific plant-based protein source and fundamental component of any diet, nuts and seeds can also double as a natural teeth whitening option.
Almonds
The texture of nuts and seeds is just coarse enough to disrupt any stains coating the surface of your teeth. Almonds, for example, are incredibly good for your teeth because they are low in sugar yet high in calcium and protein.
Note: Though snacking on fruits, veggies, nuts, and seeds is a natural way to brighten up your smile, these foods are not as effective as professional teeth whitening treatments.  
Dentistry at East Piedmont patients maintain bright, healthy smiles for life with preventive care and a balanced diet! If you'd like to learn more about how regular checkups can help you avoid future dental problems, contact our Marietta office today and find out how our New Patient Exam works.
Blog originally published August 2017 — updated June 2021.