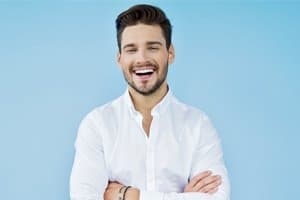 Tooth discoloration is a common dental problem that affects most adults.
Many factors cause yellowed teeth, including eating and drinking habits, tobacco usage and aging.
Even with a daily dental routine, stains start building up and tarnish your smile's appearance.
Thankfully, professional teeth whitening is one of the simplest and most cost-effective ways to transform your smile.
Professional Whitening Options for Your Smile
While there are plenty of over-the-counter bleaching options, The American Academy of Cosmetic Dentistry recommends dentist-supervised whitening as the safest, most effective treatment.
If you're looking for ways to brighten your smile, consider these dentist-approved methods:
Zoom!® Whitening Treatment:

A painless in-office whitening system that removes discoloration to create a whiter smile in just one hour.
Custom Whitening Trays:

With custom take-home trays, you can conveniently whiten your teeth from the comfort of your home.
How Professional Whitening Works

The first step in any professional whitening treatment is a complete and thorough dental examination. Your dentist must assess your oral health to determine the best teeth whitening system for your smile.
Zoom!® Whitening Treatment Steps
As the name suggests, Zoom!® is a quick solution for patients hoping to achieve a brighter smile. After just one treatment, your smile results will be immediately noticeable.
Protective coverings are placed over your lips and gums.

Your dentist applies the Zoom!® Whitening gel to your teeth. The active ingredient in the gel is a pH-balanced hydrogen peroxide.

Activated by a special low-heat light, the Zoom!® gel penetrates the enamel and dentin in your teeth to remove deep stains and discoloration.

To complete the process, a fluoride treatment is applied to your newly whitened smile.
At-Home Custom Whitening Process
Using a custom take-home tray system is a safe, easy choice for whitening your smile. Because all treatments are performed at home, however, you must be certain you understand the process instructions.
Your dentist will use molds from an impression of your teeth to make the custom-fitted trays. The creation may take anywhere from 2-4 days.

Before treatment, check the fit and comfort of your new custom trays. If your whitening tray doesn't fit correctly, the gel may leak and cause gum irritation.

Place a small amount of whitening solution into the front of each tooth in the tray. Treatment time is as individualized as your custom trays, so you must wear the whitening trays as directed by your dentist.

After whitening, remove the tray and rinse with warm water. Brush your teeth to remove any remaining gel.
Patients typically see results within the first two weeks of at-home treatment.
With a proper dental care routine and periodic whitening touch-ups, your teeth can remain bright and beautiful for years to come.
Which Option is Right For You? Ask Dentistry at East Piedmont!
Unsure of which professional teeth whitening option is best for your smile? Talk to your dentist.
At Dentistry at East Piedmont, we get to know you before offering recommendations. Our complimentary cosmetic consultation is a no-obligation opportunity to discuss your dental questions and find out which cosmetic dentistry treatment is right for you.