For as long as Annette could remember, she had problems with crowding in her lower teeth. The dental condition caused difficulty while flossing and made it tough for her to maintain good oral health.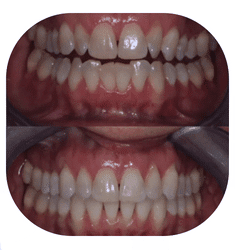 Annette knew she needed to fix the crowding so she could properly care for her teeth but didn't want the solution to cause more attention to her mouth while repairing it. "I wanted something a little more mature and something that wasn't as noticeable," said Annette.
A Dentistry at East Piedmont patient of almost 20 years, Annette knew she could count on Dr. Patel to create a treatment plan that solved her smile problems without using bulky metal braces.
Dr. Patel set up an Invisalign treatment plan to get Annette's smile alignment back on track.
Invisalign uses a series of clear, custom aligners to slowly and safely move your teeth into place over time. "Most people never even knew that I was wearing Invisalign unless I told them," said Annette.
Over the span of her nine-month treatment plan, our team provided Annette with several sets of custom aligners, guiding her through care and maintenance for the Invisalign straighteners. Annette was relieved that she knew just what to do every step of the way. 
Though she initially sought treatment for better ease of dental care, correcting her crowding concerns benefitted her smile in other ways, too. Annette suffered from many jaw problems growing up, experiencing jaw and neck pain as a result. After treatment, however, she noticed a decrease in symptoms with far more manageable pain.
Another treatment bonus? Confidence! "My expectations were exceeded. I didn't realize how confident I would feel after having my teeth much straighter," she said.
Thanks to Dr. Patel's Invisalign treatment plan, Annette can now join in on a photo and flash the biggest, brightest smile with no problem.
Are You Looking for a Straighter Smile? Contact Dentistry at East Piedmont Today!
Whether you have crowding issues or want to correct teeth misalignment, Dentistry at East Piedmont can help discreetly, comfortably straighten your teeth with Invisalign. To find out if this treatment is right for you, book a free cosmetic consultation today!


request your consultation
Schedule Online