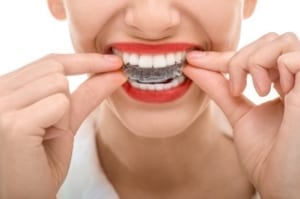 Now, advancements in orthodontics allow you to get a straight smile without having to use traditional metal braces.
With Invisalign in Marietta, you will straighten your teeth using a virtually invisible treatment. In addition to a less noticeable treatment, you will benefit from added convenience, comfort, and a faster treatment than with metal braces.
While treatment time is often shorter and no wires or brackets are used, you will have lasting results with an effective treatment.
How Does Invisalign Work?
Invisalign is far different than traditional braces. Instead of using wires and brackets to pull the teeth into their correct position, aligner trays are worn over the teeth. After performing a consultation to determine if Invisalign is right for you, we use images, x-rays, and scans to create a treatment plan that involves the movement of your teeth. Using these images, we create custom-made aligner trays. The trays are worn over the teeth for about 22 hours per day. You will wear each tray in the series for about two weeks. On average, it takes roughly 12 months to progress through the series of trays; however, the length of treatment varies depending on your individual needs. At the end of your treatment, you will need to wear a retainer to prevent your teeth from moving out of their new positions.
What are the Benefits of Invisalign?
Invisalign offers clear benefits that just are not possible with metal braces. The greatest benefit is the discreet treatment; however, the benefits extend farther than just that of the visual appearance. Since the trays are removable, you will not have any dietary restrictions. Plus, oral hygiene is easy because you do not have to brush and floss around metal wires or brackets.
In addition, treatment is more convenient because you will require less trips to the dentist. You can switch to the next tray in the series at home without having to come into our office for adjustments. However, we will still need to schedule an appointment every few weeks so we can monitor the treatment.
You will benefit from a higher level of comfort since wires and brackets are not used. There will be no tugging or pulling on the teeth due to adjustments. The smooth aligner trays will not cause irritation to the inside of the lips or cheeks like that of traditional braces.
Is Invisalign Effective?
When used on the ideal candidate, Invisalign is just as effective as traditional braces. However, Invisalign cannot be used to treat major alignment or bite complications. For those who follow the dentist's directions, both during and after treatment, will gain a lasting new smile.
Alternative to Metal Braces
As a Marietta cosmetic dentist, we are proud to offer a wide range of solutions to straighten your smile. With Invisalign, you will get the straight smile you have always wanted with the most preferred option available. If you are ready to finally get a straight smile, it is time to contact our office to schedule an appointment to see if Invisalign is right for you.