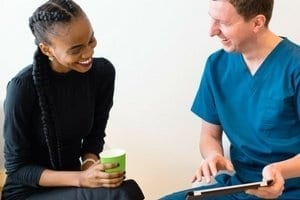 Your smile reveals a great deal about who you are and is the first thing others notice when they see you. Is yours as straight as you'd like? Maybe you've got a bad bite, or have gaps in your smile that are making you self-conscious. Whatever the reason – the benefits of a straighter smile aren't just cosmetic.
Straighter teeth allow for easier flossing and brushing, better food digestion, and a healthier mouth overall. And these days, you don't have to endure the discomfort of metal braces, wires and rubber bands to get a smile that reveals the real you.
The Difference is Clear
Invisalign treatment uses a series of removable aligners that allow you to enjoy practically invisible teeth straightening. Though the most obvious benefit of Invisalign braces is that they're nearly undetectable, there are some other advantages for Invisalign patients.
Comfort
Unlike braces, Invisalign aligners are made up of smooth, comfortable plastic that fits into your mouth with ease. Braces consist of a sharp metal that can be rough against your mouth and are more likely to irritate your cheeks and/or gums.
Custom to your needs
With regular braces, patients have to avoid certain foods and take extra care to prevent tooth decay caused by inadequate brushing. Invisalign uses removable plastic trays to make it easier for you to eat whatever you like and enable normal brushing and flossing for better periodontal care. It's recommended that patients wear the aligners for 20-22 hours a day, except eating, drinking, and dental care.
Convenience
The clear aligners also free up your schedule while your teeth are straightened. Instead of making regular dentist or orthodontist visits to get your braces checked and tightened, you'll simply change your trays out about every two weeks. These changes will follow a treatment plan specifically designed with your smile in mind. To monitor progress, you will go in for occasional checkups throughout the treatment process, which lasts 18 months on average.
If you are ready to experience the benefits of straighter teeth, call Dentistry at East Piedmont today and ask about our complimentary smile consultation. Before we can determine which treatment is right for you, we need to learn more about your concerns and desired results. We look forward to meeting you!