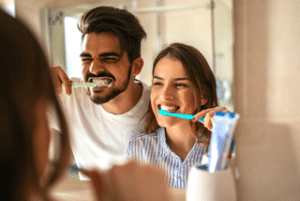 Do you ever dream of what it would be like to have a brand new smile? If you aren't completely satisfied with your smile, a cosmetic dental smile analysis can help you pinpoint what you'd like to change. If you're ready to start your smile makeover journey, analyzing your smile will help you communicate your goals to your dentist.
So take a few moments to reflect upon your smile while considering these points.
The Smile Analysis
To begin the at-home cosmetic dental smile analysis, stand in front of a mounted mirror. Taking time to examine your teeth closely will help you tell your dentist exactly what you don't like about your smile.
First: Smile at yourself using your "normal" smile.
Next: Look at the mirror and smile broadly. You might be uncomfortable with this big, laughing smile if you aren't happy with your teeth. After your smile makeover, however, that broad smile will appear much more frequently, because your teeth will look and feel great!
As you examine your teeth, try to look for what might be holding you back from showing a full smile. You might see issues such as:
Asymmetrical teeth
Chips, cracks, or pitting
Discoloration or staining
Gaps or spaces between the teeth
Misshapen or worn teeth
Missing teeth
Teeth that appear too long, too short, or too pointed
Any or all of these smile imperfections can be solved with cosmetic dentistry procedures.
Your New Smile is Waiting for You
At Dentistry at East Piedmont, we know the impact a beautiful smile can have on your life. That's why we offer a full range of cosmetic services. But more importantly, we want to work with to find out what makes your smile unique and what you want your smile to achieve.
Our smile consultation is a comfortable, no obligation way to sit down with one of our dentists and discuss what is right for you. During your initial consult, we will discuss your goals, preferences, and options for care. We may even suggest a range of procedures, from teeth whitening to porcelain veneers.
If you're unhappy with the way your teeth look, please contact our office in Marietta to learn how a smile makeover can improve your smile, oral health, and overall confidence today. And if you have any questions about the cosmetic dental smile analysis, just call! We will be delighted to set up your free consultation or answer any questions you have.