Missing teeth are much more than just a gap in your smile.
If one or more of your teeth are missing and you don't seek treatment, over time the void may cause your jawbone to weaken and alter the alignment of your other teeth. Just one missing tooth will affect your ability to speak and chew food normally.
Finding a viable replacement option for your missing teeth as soon as possible will help prevent these issues from occurring. There are a number of ways to restore a missing tooth: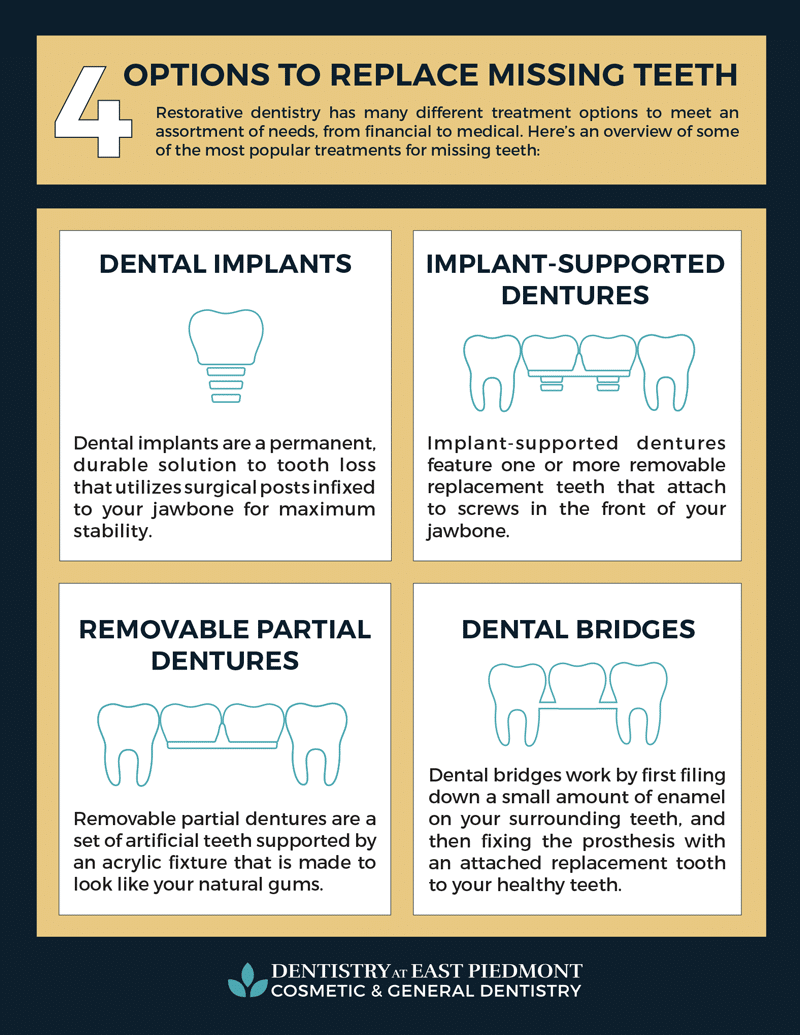 Which Teeth Replacement Option is Right for You?
The options to replace missing teeth are plenty, so you'll want to weigh the advantages and disadvantages of each treatment before deciding which solution suits your needs best.
Dental Implants
Implants are artificial teeth that are surgically embedded into your jaw and held in place by screws. They provide the most natural look and are the only option to replace missing teeth that preserves the integrity of your jawbone. Though dental implants can be pricey, the durable treatment provides a long-lasting solution for missing teeth.
Patients must be in adequate general health to be a candidate for implants, as the procedure involves surgery. Ideal implant candidates will have sufficient bone strength to secure the implant.
Implant-Supported Dentures
Implant-supported dentures feature posts embedded at the anterior of your jaw, where removable dentures are then attached. This option is less expensive than dental implants and a good alternative for those whose jawbones aren't strong enough to support dental implants, as the frontal part of the jawbone is typically more substantial than other parts of the jaw. Many patients prefer implant-supported dentures to the standard removable denture as the option provides more stability.
Removable Partial Dentures
Removable partial dentures are artificial teeth attached to a plastic framework that mimics the color of your natural gums for discretion. Unlike permanent teeth replacement options, your partial dentures should not be worn at all times and will need to be removed for cleaning. While removable partial dentures are a more cost-effective method to replace missing teeth, it should be noted that they are not as durable as other options and require set replacement over time.
Dental Bridge
Over the years, dental bridges have remained a popular restoration option. Bridges function to replace one or more missing teeth with a permanent bonding. Depending on your smile needs, you may consider one of the following:
Implant-Supported Fixed Bridge: Can replace multiple teeth or even a full arch of teeth.

Tooth-Supported Fixed Bridge: Features a prosthetic tooth attached to two crowns that cover the teeth adjacent to your missing one, cemented permanently to your existing teeth.

Resin-Bonded Bridge: Features a fake tooth or teeth supported by a porcelain or metal structure that is bonded to the two teeth surrounding the missing tooth.
This is by no means an exhaustive list of all the options to replace missing teeth. To fully explore what solution would be best for you, schedule an appointment with Dentistry at East Piedmont today!