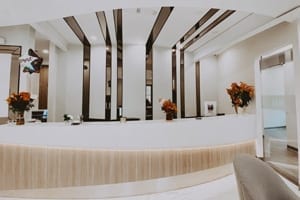 Dentistry at East Piedmont has been providing the utmost quality of oral care to our Marietta patients since Dr. Patel founded our dental spa in 2001. We are excited to continue this same level of service at our brand new office, located just a few miles from our previous spot. Beloved luxury amenities such as paraffin hand waxes, in-suite streaming services, and our complimentary coffee bar are available. Still, there are a few changes to our practice since the move.
The biggest difference between our old office and the new one is a larger space to cater to our patient's needs. Going from five dental suites to 11, we have more than double the capacity to accommodate both new and existing patients. Dentistry at East Piedmont now also offers a special surgical suite for more intensive dental procedures. The additional space allows Dr. Patel the opportunity to implement a teaching facility, as well, to further our staff's already extensive dentistry knowledge.
Designed with patient comfort in mind, Dentistry at East Piedmont's new home features a light, airy atmosphere that emits warmth throughout each turn. One of our favorite new features is the curved hallways, which give our Marietta dental spa a modern look and feel while pristine white walls and marble flooring provide a luxurious environment.
Schedule a complimentary cosmetic consultation with us today and check out our new digs for yourself!