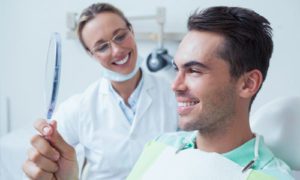 If you're putting off a trip to the dentist because you don't have dental insurance, you are putting yourself at risk for serious conditions such as tooth decay or gum disease.
Regular checkups are a crucial part of prevention, which is why avoiding dental visits can cause a lot of damage to your mouth and end up costing you far more in the long run. Getting your teeth cleaned regularly by a dental professional also ensures that any potential problems are detected early on.
Don't skip out on visiting your dentist just because you have no insurance. Dentistry at East Piedmont has chosen not to be participating providers on any insurance plans, meaning you do not have to have insurance to get quality dental care.
What is a No Insurance Dentist?
We consider ourselves a no insurance dental provider. When you agree to be a provider, you also agree only to provide 'covered' services, not services that are needed.
When it comes to your dental health, you should have the right to choose the type of care you need and desire, not be limited by what your insurance dictates.
Dr. Patel strives to provide every patient with options from the most optimal treatment to more affordable short-term options. Whether you are insured or not, he does everything possible to make sure you receive the highest level of care available.
Affordable Patient Financing
For your convenience, we accept cash, check, and major credit cards. We also offer the following third party financing options to help you get the dental care you need to keep your smile healthy:
CareCredit –We work with CareCredit, a healthcare finance program, to offer low and no interest payment plans to our patients. Simply apply for CareCredit's Dental Care Financing online or call our office to ask about which plans we provide.
LendingClub – We also offer flexible payment options with LendingClub for our cosmetic dentistry patients. LendingClub offers a low monthly payment plan to help finance elective treatments. The application is easy to fill out and understand. Before you know it, you'll be ready to proceed with your treatment!
GreenSky – The GreenSky Patient Solutions® Program offers flexible financing to meet your dental needs. You can apply online or via phone at 844-810-7713.
Please contact us at (770) 321-5558 to discuss your dental care and patient financing needs.
NO INSURANCE DENTAL CARE IN MARIETTA
No matter what your insurance situation is, Dentistry at East Piedmont can readily accommodate your needs. We believe that not having insurance shouldn't limit your ability to care for your smile.
If you'd like to schedule an appointment or find out more about our no insurance dental care, please call our office or contact us online today.
Blog originally published May 2017 — updated July 2021.