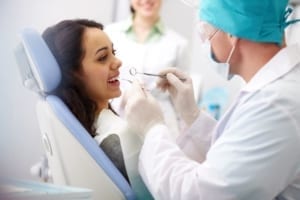 When people hope to improve their smile with cosmetic dentistry, they typically think of teeth whitening as the best option. However, dull tooth discoloration isn't the only cosmetic problem your smile can have.
If you have a gap, crack, or missing tooth, it can diminish the overall appeal of your smile in a way that whitening can't solve. Porcelain veneers, on the other hand, provide a modern, durable solution to plenty of cosmetic dental issues you may have.

Here are four major reasons why you should consider porcelain veneer treatment for your smile:
1. Dramatic Transformation
With the thickness of about half a millimeter, veneers are wafer thin piece of porcelain that create a significant transformation when bonded to your teeth. Porcelain veneers can be used to disguise various flaws. The process can perfect the color, shape, and size of individual teeth in a few simple steps.
2. Natural Appearance
Porcelain is a translucent material that replicates several natural characteristics of enamel. The translucency of a porcelain veneer allows light in and easily mimics the sheen of enamel.
3. Tooth Preservation
Not long ago, dentists around the world used full dental crowns to address cosmetic flaws. Dental crowns require an extensive tooth reduction before the process can even begin, which can potentially have a negative impact on oral health. Veneers only require a slight amount of enamel reduction on the front surface, enabling dentists to preserve as much natural tooth material as possible.
4. Lasting Beauty
Both a technical and artistic process, porcelain veneer treatment comes together to creative longevity. The durable materials and modern techniques enable patients to have smiles that are not only structurally sound – they dazzle, too.
Schedule Your Smile Consult
No matter what your cosmetic concern is, masking the problem does not mean your teeth should transform into tiny Chiclets. Our skilled smile makeover team is careful to recreate the details of your tooth structure to reveal the very best your smile can be.
If you are interested in learning more about porcelain veneers and if the veneer treatment is right for you, please contact or call our office in Marietta today for more information. We provide a complimentary smile makeover consult to determine the best procedure options for you.