The Challenge: Dental Bonding Dilemma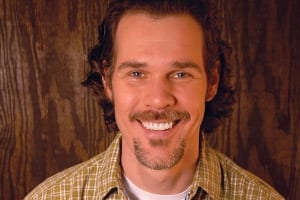 At age 7, Jason experienced a fall that caused his front teeth to fracture. As a semi-permanent fix, his childhood dentist bonded the tooth to its normal size and shape. However, the bonding had to be redone about every three years as it popped off or became discolored. But when his bonding broke just one week before a trip to Hawaii where he'd planned to propose, Jason knew it was time for something more permanent.
Over the years, Jason periodically visited Dr. Patel to have his tooth re-bonded, despite the dentist's recommendation of a more permanent solution. Jason didn't seriously consider the option until the bonding almost derailed his proposal. As a musician, he feared any cosmetic changes beyond the dental bonding might have a dramatic impact on his ability to play well.
Jason went into the initial consultation concerned that any change to the shape and size of his teeth would drastically affect the way he played the trumpet. Hearing his concerns, Dr. Patel created a treatment plan focused on matching the two central incisors.
The Treatment: Porcelain Veneers
With the plan in place, Dr. Patel removed the bonding and prepared Jason's teeth for a more permanent restoration with porcelain veneers.
Porcelain Veneers are made up of an incredibly thin, durable material that looks and feels just like natural tooth enamel. The highly stain-resistant porcelain bonds to the outer surface of your existing teeth to eliminate imperfections. With proper care, veneers can last for anywhere from 16 to 20 years.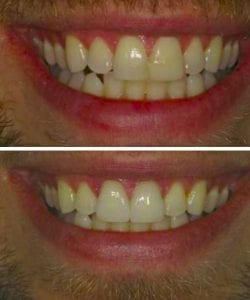 After tooth preparation, impressions were taken and sent to our ceramic dental lab partner. Considering elements of color, shading and texture, Perry Carroll CDT designed a custom set of porcelain veneers for Jason.
In a second appointment, a mere six weeks later, Jason returned to Dentistry at East Piedmont to have his veneers permanently placed. The result is a flawless set of two teeth that blend perfectly with his surrounding teeth. For Jason, the ultimate test was when he played his trumpet for the first time. To his relief, the airflow was exactly as it was when the tooth was bonded.
Thanks to Dr. Patel's treatment plan, Jason now has a beautiful, natural-looking smile that won't fade in the years to come.
Do You Need Porcelain Veneers? Contact Dentistry at East Piedmont Today!
Whether your teeth are cracked or broken from a childhood accident or other dental trauma, Dentistry at East Piedmont can help you achieve your dream smile with porcelain veneers. In your complimentary cosmetic consultation, Dr. Patel takes the time to understand your needs and concerns so he can provide you with the best treatment plan possible.