The Challenge: Broken Teeth
When Rob came to Dentistry at East Piedmont in April 2017, his teeth were broken down.
He had experienced an accident that caused severe damage to his smile years before, saying, "My teeth suffered because I didn't have anyone to take care of them … I was depressed because of it."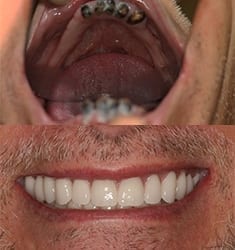 Chewing food was a nearly impossible task due to his broken teeth, so Rob also had to cope with weight loss.
Rob's focus was on improving his life, and Dentistry at East Piedmont was happy to help. In the initial consult, Dr. Patel discussed treatment objectives with Rob and created his smile makeover treatment plan.
The Treatment: Dentures
Dr. Patel removed all of Rob's remaining teeth and replaced them with dentures.
Dentures or dental implants are a permanent, artificial tooth replacement. The custom-tailored treatment process takes anywhere from three to six months and is designed to last for a lifetime, providing you with beautiful and functional replacement teeth.  
As shown in the image below, we custom designed dentures to fit Rob's facial features and exact mouth shape, as well as getting Rob's input on his desired color and shape for his new teeth.
Once complete, Dr. Patel's smile makeover treatment plan fully restored the function of Rob's broken teeth, giving him a smile that closely mimics natural teeth. Now, Rob is no longer ashamed or embarrassed to smile and laugh.
"The confidence level just skyrocketed," Rob said.


book your complimentary consultation today
Schedule Online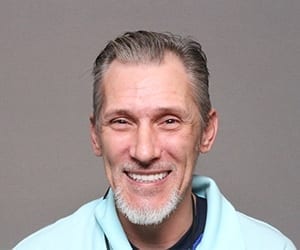 Before Rob came to Dentistry at East Piedmont for treatment, his teeth were broken and missing. After 
treatment, Rob's new smile 
shows no sign of damage.
He can now enjoy all his favorite foods and smile with ease!
Looking for Dentures in Marietta? Contact Dentistry at East Piedmont!
Left untreated, tooth loss can lead to serious complications over time and severely impact your day-to-day life. 
Dentistry at East Piedmont can restore your smile with beautiful, custom-fitted dentures if you are suffering from a broken smile or missing teeth caused by an accident or other dental trauma.