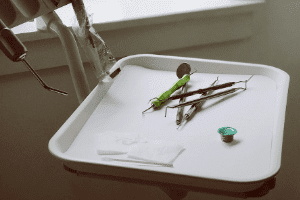 Choosing a cosmetic dentist is a big decision. After all, the dentist you select will have a permanent role in the health and look of your smile.
Finding out which Atlanta cosmetic dentist is right for you involves a combination of elements that affect your overall experience, not just one single trait. For this reason, Dentistry at East Piedmont strives to provide excellence in everything we do, from the advanced technology we use to our spa-like atmosphere:
Professional Expertise
When you come to Dentistry at East Piedmont, you can rest assured that each member of our friendly, experienced staff is trained to provide the best dentistry experience for our Atlanta patients.
For the second year in a row, Atlanta Magazine named Dr. Ashish Patel one of the top dentists in Atlanta, and it's easy to see why. Dr. Patel's passion for dentistry began early in life, and he has spent decades since realizing his purpose through continuing education and time spent perfecting his craft. In fact, Dr. Patel is one of only around 5% of dentists to graduate from the prestigious Hornbrook Advanced Cosmetic Dentistry Continuum.
Patient Comfort
Every aspect of our Atlanta dental practice is built around giving our patients an enjoyable experience. The Dentistry at East Piedmont office features a relaxing dental spa with calming waterfalls and a complimentary beverage bar to put patients at ease from the moment they arrive.
Our luxury dental suites are equipped with all the amenities you need to stay cozy throughout your appointments such as Netflix streaming with noise-canceling headphones and even paraffin hand waxes. We believe that creating the right ambiance for our patients goes a long way in providing an overall satisfying experience during their dental visits.
Advanced Technology
Receiving the best cosmetic dentistry results with minimal pain is a direct result of the technology used to create your new smile.
Dentistry at East Piedmont always uses cutting-edge dental technology to ensure our patients achieve the smile of their dreams without experiencing discomfort throughout the procedures. Our office utilizes state-of-the-art systems such as CEREC CAD/CAM technology, the MoonRay 3D printer, and The Wand® Single Tooth Anesthesia to guarantee precision dentistry and optimal patient comfort.
Convenient Services
Our Atlanta dentists know that quick results mean happy patients. We're proud to offer a selection of same-day dental services so you can come in and fix your problem all in one visit. Popular treatments include:
Teeth in a Day: This transformative cosmetic dentistry service will fully restore the look and function of your teeth with permanent replacements for missing or severely damaged teeth in the span of one appointment.
Crowns in an Hour: There's no need to suffer through unsightly and uncomfortable temporaries thanks to CEREC technology. With these custom crafted crowns, you'll leave your appointment with natural-looking crowns in around just one hour.
Dentistry at East Piedmont understands that trusting someone new with your smile can be scary, so we are always available to answer any questions you may have to guide you through the process and ensure you're entirely comfortable in your decision.
If you'd like to learn more about our Atlanta cosmetic dentistry practice, call 678-647-1543 or reach out to book your complimentary consultation today!