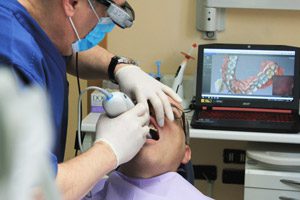 From smartphones to voice-controlled smart speakers, advancements in technology continue to make life easier, and that includes your oral care, too.
With modern dental technology, dentists like your Marietta cosmetic dentist, Dentistry at East Piedmont, utilize state-of-the-art technology to provide you with a new smile. Excellent results don't just come from high-tech equipment, however. We combine gentle care and dental expertise with the best tools for the job to deliver an unparalleled patient experience.
With advanced dental technology, professional dentists can offer treatment solutions tailored your individual needs.
Precision Dentistry Technologies


Consider the top dental technologies used to create beautiful smiles and provide the very best patient care:
Single Tooth Anesthesia System®
For those with dental phobias or requiring extensive treatment, The Wand® simplifies the numbing process with a minuscule needle that injects the anesthetic into a specific area. The computer-controlled system allows your dentist to monitor precisely how much anesthesia is administered to achieve a painless dental experience without numbing your entire mouth.
TRIOS® Intraoral Scanner
Although the name is quite a mouthful, the TRIOS® intraoral scanner is actually a painless alternative to the messy discomfort of traditional impressions. The digital 3D scanner takes exact images of your mouth in just a few seconds. The digital images are then shown on a computer so that you and your dentist get a detailed view of each tooth along with a better understanding of your mouth's condition.
MoonRay 3D Printer
One of the features of any smile makeover lies in work done before treatment begins, like dental impression trays. With the MoonRay 3D printer, your dentist can provide a 3-dimensional evaluation of your smile before and after. Using digital scans of your mouth, MoonRay can print oral appliances such as impression trays, night guards and dentures.
Diode Laser
Professional dentists use soft-tissue lasers like the Diode Laser to perform a myriad of procedures in a safe, effective manner. The laser is particularly useful for cosmetic treatments like gum contouring, as it uses a concentrated light source to seal wounds as it cuts to promote a faster healing process.
CEREC
With CEREC's CAD/CAM technology, you can receive fully-functioning crowns in a single appointment without the need for a temporary crown. CEREC offers a durable solution for both cosmetic and general tooth issues in just one trip to the dentist.
Cutting-Edge Cosmetic Dentists in Marietta, GA
Dentistry at East Piedmont is committed to using the most state-of-the-art dental technology to increase patient comfort and satisfaction. Contact us today to see how we can use our advanced dental technology to perfect your smile!