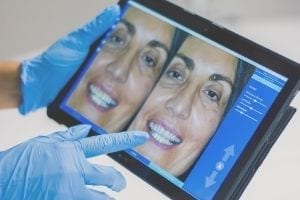 Picking the right cosmetic dentist is a great first step to achieving that wonderful smile you've always dreamed of when you want to move forward.
According to the American Academy of Cosmetic Dentistry, mostly everyone feels an attractive smile makes a person more appealing. But today, with any dentist out there claiming that they are a cosmetic dentist, it's difficult to discern who to pick.
Obviously, you want one that can give you smile the experience and attention-to-detail your smile deserves. (Download our free eBook, 6 Essential Steps to Choosing a Cosmetic Dentist, for a more in-depth look into the selection process.) Here are some things to think about when choosing your cosmetic dentist.
Tips for Picking the Right Cosmetic Dentist
1. Is It Their Main Focus?
You'll want to look for a dentist who has placed emphasis on cosmetic dentistry as their primary focus in their practice. You don't need to go to dental school to know the more cases a dentist has done, the more likely he can produce the results you expect.
2. Degree of Education
Dental schools teach a minimal amount of cosmetic dentistry. That's why it's important to do research and follow up on the post-graduate credentials of a dentist when choosing. Have they gone through post-graduate institutions specializing specifically in cosmetic dentistry? What membership affiliations do they have? Where do they focus a lot of their continuing education?
3. Referrals from Other Patients
Testimonials are great, but what's better than those reviews? Ask the dentist give you patient referrals that you could call and discuss their experience in-depth. Other patients sometimes can give you a better insight into what you should expect before, during and after treatment.
4. Before and After Photos
When narrowing your candidates, make sure that the dentist has plenty of photographs of their work. A photo library will show what to expect from their work. A before and after gallery is essential for evaluating the level of performance.
5. How Comfortable Are You with the Dentist?
Trust is important so you can openly communicate with the cosmetic dentist you choose. If you get confused or have a bad feeling, it might be best to move on.
6. Technology, Comfort and Office Standards
Take an extra close look around the office. Check out their sterilization areas and what equipment they use. Ask questions about the technology available and protocol procedures adopted.
7. Expect Treatment Options
During the consultation of your dental issue, a cosmetic dentist should explain the 'ideal' treatment solution and include various alternatives. Options are crucial because ultimately you are responsible for your own decisions. Still, you also need to fully understand (along with trusting your dentist) each option presented and what it entails.
Choosing the right cosmetic dentist for you isn't something you want to rush. Download our free eBook, 6 Essential Steps to Choosing a Cosmetic Dentist, today. Arm yourself with the knowledge you need on selecting the right cosmetic dentist, so you don't waste your time or money in the long run.
Blog updated – originally published January 19, 2017.