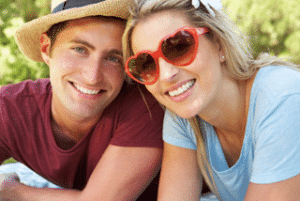 With Valentine's Day just a few days away, matters of the heart are on our minds. After all, there's no better time to celebrate those closest to you.
As you consider your loved ones, take some time to think about the health of your heart, too.
The Connection Between Your Teeth and Your Heart
The American Academy of Periodontology found people with oral health issues, such as gum disease, have nearly double the risk for heart disease than people with healthy gums.
Untreated gum disease has been linked to serious heart conditions, including cardiovascular disease and endocarditis, an infection of the inner lining of your heart.
Other Linked Conditions
Nearly 80 percent of the U.S. population has some form of periodontal (gum) disease without even realizing it. Gums irritated by bacteria recede from the teeth, creating deep pockets where more bacteria can hide and flourish.
Left untreated, gum disease spreads and compromises the teeth, bone, and gums before eventually leading to other health complications. Aside from heart disease, other health problems linked to gum disease include:
Alzheimer's

Diabetes

Osteoporosis

Pneumonia

Premature birth

Stroke
Ways to Keep Your Smile Healthy
Preventing gum disease and oral health concerns by brushing and flossing daily is just one way to fight against heart disease and other health conditions.
Here are a few tips to keep your smile in shape:
Replace your toothbrush.

Even if you're brushing twice a day, if your toothbrush is more than a few months old, it can do more harm than good to your smile.
Enjoy a balanced diet.

What you eat impacts your smile in a big way. Nutrient-rich fruits and veggies are not only better for you than carbs and candy, some of them can even help whiten your teeth.
Use mouthwash every day.

To keep your breath minty fresh and reduce your risk for periodontal infection, we recommend using antibacterial mouthwash daily. Remember to rinse with mouthwash

before

you brush, otherwise you'll undo all the work of brushing your teeth!
Regularly scheduled dental visits and a proper oral care routine help are just a few things that may prevent serious health problems.
Thanks to our preventive care practices, Dentistry at East Piedmont patients enjoy beautiful, healthy smiles for life! To find out more about our comprehensive dentistry services, please contact us or call (770) 321-5558 today.