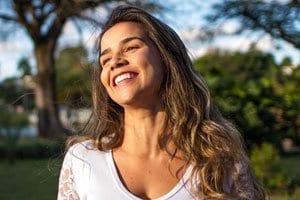 Do you suffer from cracked, chipped, misaligned or discolored teeth? If the answer is yes to any of these concerns, then porcelain veneers may be the perfect solution.
Crafted from tooth-colored porcelain, dental veneers are thin shells designed to cover the front side of your tooth. A popular cosmetic dentistry solution, veneers provide the renewed confidence that comes with a brand new smile.
When considering dental treatment, it's important to weigh the benefits as well as the drawbacks for each option. We've put together this list of pros and cons regarding dental porcelain veneers to help you determine if they are the right solution for your smile.
Advantages of Dental Porcelain Veneers
1. They Improve the Appearance of Your Smile
As mentioned above, veneers are a great option for anyone with discolored, broken, misshapen or misaligned teeth. The shell of porcelain hides these cosmetic issues, resulting in a picture-perfect, yet natural appearance for your smile.
2. They're Less Invasive Than Crowns
Dental crowns require extensive grinding to shape your natural tooth in preparation for the procedure. Porcelain veneer placement is far more conservative and requires very little removal of enamel. Not only is the procedure less invasive, veneers also provide a stronger bond than traditional crowns.
3. They Are More Stain Resistant
Veneers are more resistant to stains when compared to a treatment like resin composites. The long-lasting solution isn't vulnerable the permanent staining that traditionally comes with indulging in a daily cup of coffee or tea.
Disadvantages of Dental Porcelain Veneers
1. They Are Permanent
Once the veneers have been bonded to your teeth, removal is not a practical option. Although they look real, they are still artificial teeth. The procedure is completely permanent, so there is no changing your mind once you've committed. With proper care, veneers can last for anywhere from 16 to 20 years.
2. They Can Cause Tooth Sensitivity
After your procedure, you may feel sensitivity to hot or cold foods and beverages. Your tooth's enamel is exposed slightly just before the veneer is placed, which can cause a mild sensation for a few days post-treatment.
3. They Are Still Susceptible to Damage
Dental veneers are very durable, but that doesn't mean they are indestructible. Veneers can potentially break, chip or even fall off if you consume hard foods or grind your teeth frequently. You'll need to practice a regular dental care routine, as veneers don't protect your smile from tooth decay.
Find Out More— Schedule a Free Consult!
During our complimentary cosmetic consult, we will walk you through your available treatment options and discuss your individual smile goals and challenges. As an expert cosmetic dentist, Dr. Patel takes the time to understand your needs and concerns so he can provide the necessary information you need to select the best possible treatment.
If you'd like to see if dental porcelain veneers are truly the right solution for you, schedule a complimentary cosmetic consultation with Dentistry at East Piedmont today.