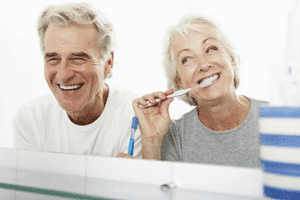 The saying "time is money" is true now more than ever. Taking time out of your work schedule or home life to come to the dentist can be difficult.
State-of-the-Art Dental Technology
Investing in the latest technology and advances in dentistry allows us to be more efficient and cut down on the amount of appointments needed.
A traditional crown takes at least two visits:
The first appointment is to

 create and place the temporary crown
2-3 weeks later, another appointment is required for the placement of the permanent crown
CEREC technology allows Dentistry at East Piedmont to prepare the tooth and create the final, permanent crown in one visit. The entire procedure takes only about an hour, with results that are quick, beautiful and durable.
Patient Testimonial
This is a 58 year old patient with an old silver filling that she has had for 30 years. The filling became infected with a cavity and was beginning to break on the front of the tooth.
The patient consulted with Dr. Patel, hoping he would not only help to fix her tooth, but offer a solution that would improve the appearance of her smile, too.
After a thorough examination, Dr. Patel removed the old silver filling and decay, and with the help of advanced CEREC technology, a beautiful new restoration was made and placed in exactly one hour.
If you're seeking a new dentist, or want to learn more about our Crown-in-an-Hour services with CEREC technology, feel free to call our office at (770) 321-5558 for more details.