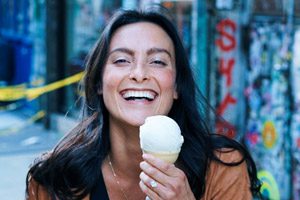 As one of the most popular cosmetic dentistry treatments in Marietta, a full mouth reconstruction (or smile makeover) addresses multiple aesthetic and functional concerns at once to completely transform your smile.
If there's more than one thing about your teeth that make you want to hide your smile, a full mouth reconstruction is an excellent way to eliminate your confidence killers so you can look and feel your best.
However, undergoing a smile makeover is a significant decision. Consider the pros and cons of the full mouth reconstruction procedure before seeking treatment:
Benefits of a Full Mouth Reconstruction
1. You Customize the Treatment
Smile makeovers aren't a one-size-fits-all treatment plan. Simply copying the smile of your favorite Hollywood star can leave your teeth looking 'too perfect' and fake in appearance. For a full mouth reconstruction, your Marietta dentist will assess factors such as your facial structure and treatment goals to create a smile that is dazzling yet wholly natural.
2. You Experience Total Transformation
Even one or two mouth reconstruction treatments have the power to change the way your smile looks completely. You'll be surprised at how greatly a few tweaks alter your appearance and improve oral function! Once the smile makeover process is complete, the results achieve a healthy new smile altogether.
3. Your Confidence is Restored
According to the American Academy of Cosmetic Dentistry, people believe a great smile makes a person look and feel their best. When you fix all the little things that make you self-conscious about your mouth, you'll be eager to show off your new smile. By tailoring smile makeover options to your specific aesthetic concerns, you'll be free to grin confidently without any dental worries holding you back.
Disadvantages of a Smile Makeover
1. Treatment is Time Intensive
It is unlikely that your dentist will be able to complete every treatment at once, which means you'll need to be patient before you can enjoy the results of your full mouth reconstruction. Note that specific procedures require healing time before you can begin another treatment, so your smile transformation might take months or more to complete.
2. Treatment Costs Can Add Up
Depending on what treatments you select for your full mouth reconstruction, expenses can increase quickly. Each smile makeover option has its own cost, and some procedures are far more pricey than others. Because full mouth reconstructions are customized to the individual, it's impossible to know how much your treatment plan will cost without a cosmetic consultation.
Learn More: Book your complimentary cosmetic consultation today!
3. Treatment Candidates Require Good Oral Health
Your current oral health status will play a significant role in the overall treatment plan. Those with existing dental conditions or prior health complications may require extensive restorative care such as a root canal or deep periodontal cleaning before treatment can even begin, furthering your overall costs.
Are you curious about what a full mouth reconstruction can do for you? Dentistry at East Piedmont offers a free smile consultation to assess your health and personal aesthetics to build a smile makeover treatment plan that works for you. Contact us today to begin your journey to a brand new smile!