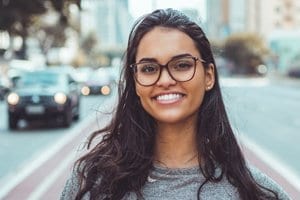 Aesthetic problems with your teeth can put a dent in your confidence, but that doesn't mean you have to live with discomfort and dissatisfaction! Thanks to cosmetic dentistry, a brand new smile is easily within reach.
No matter how big or small your tooth concerns may be, your Marietta cosmetic dentist has the solution. With these popular smile treatment options, you'll love your look in no time at all.
The Best Solutions for a New Smile in Marietta
Smile-correcting veneers fix a wide variety of cosmetic issues such as chips, cracks, stains, and slight misalignment in the teeth. The porcelain material is paper thin yet incredibly durable, offering a non-invasive solution that stands the test of time. Because porcelain veneers are bonded to just one tooth, or several, this option is can address your specific cosmetic dentistry needs with individualized treatment.
You might think one missing tooth is not a big deal. But the truth is, even a single missing tooth results in more than cosmetic issues, causing complications in your oral health and overall health too. Restorative dental implants are a permanent option to bring back your smile with surgically-placed posts. Dental implants look and feel just like your natural teeth, so you can practice a normal oral care routine and enjoy food again with renewed confidence.
When your teeth are dull and stained, it's tempting to hide your smile. Now, with all the professional teeth whitening solutions out there, you can flash your pearly whites comfortably. From effective in-office treatments to convenient take-home trays, bringing your teeth several shades whiter has never been easier. Whatever option you choose, the results are sure to dazzle.
If you're experiencing several dental dilemmas, you might consider a smile makeover to address each concern at once. Your dentist will assess factors such as facial aesthetics and the condition of your mouth to create a custom treatment plan built with you in mind. From misalignment to the shape of your teeth, a comprehensive smile makeover corrects cosmetic problems to achieve your dream smile.
With so many different cosmetic dentistry options available, there's no reason to stay unsatisfied with your smile. Contact Dentistry at East Piedmont today for a complimentary cosmetic consultation to discuss which treatment options are right for you.