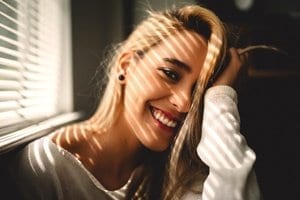 If you're dissatisfied with the look of your smile, there's no reason to remain self-conscious. Smile-perfecting smile makeovers allow patients to address both cosmetic and general dentistry problems by implementing a treatment plan that's customized to your specific smile goals.
From whitening to fixing misaligned teeth, there are plenty of smile makeover options available that come together to create your perfect smile. Read on to learn more about the process and what to expect from a smile makeover:
Initial Consultation
Your journey to a new smile will begin with a consultation where your dentist will take the time to learn more about your treatment goals. At this time, you'll discuss any smile concerns you have, and your dentist will go over the options available to achieve your desired results.
During the initial consult, your dentist will also perform a full assessment to make sure your oral health is in good condition and ready to receive treatment. If any health problems are detected, they will need to be addressed before your smile makeover can begin.
The Treatment
Once your dentist has a clearly defined scope of what changes you'd like made to your smile, they will work with you to build a custom treatment plan. For the most flattering results, your dentist will consider factors such as color, face shape, and aesthetics to determine the details of each procedure.
Because smile makeover treatment plans are customized for specific individuals, there is no standard treatment cost or timeline. Discussing your budget and expected treatment length is a crucial part of deciding which smile makeover options are the best fit.
Caring For Your New Smile
When your smile makeover is complete, you'll need to maintain a proper oral hygiene routine to keep your mouth healthy and beautiful. Certain treatments such as teeth whitening require more upkeep, as the effects will fade over time. You'll also want to schedule regular dental visits so your dentist can detect and correct any potential problems before they impact your teeth.
With the many cosmetic dentistry options out there, finding a solution to your specific dental concerns is simple. No matter what your objections, a smile makeover will provide the results you need to regain confidence in your smile. Schedule a free cosmetic consultation to find out if a smile makeover treatment plan is right for you!