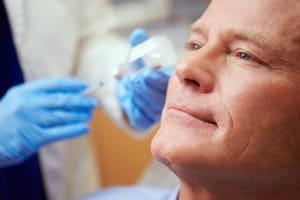 BOTOX® can solve a variety of issues, from fine lines and wrinkles to TMJ-related pain.

How can one treatment fix so many problems? Though the results may be remarkable, there's no mystery to how the injections work. Read on to find out exactly how BOTOX® produces such great results and what you can expect from the procedure:
How It Works
BOTOX® is made up of a protein called botulinum toxin that restricts nerve contractions at the site of injection. Once the solution adheres to the nerve endings, muscle contractions that result in wrinkles or unwanted movement (such as clenching and grinding) will temporarily halt until the solution wears off.
The Treatment Process
Getting BOTOX® for the first time can be scary. Knowing what to expect will help ease your worries and prepare you for treatment.
Before
During your initial BOTOX® consultation, your provider will assess areas that need treatment and determine the number of units required to achieve your desired results.
During
Once a treatment plan is in place, your provider will make several small BOTOX® injections in the appropriate areas. Discomfort is minimal, as the process only takes a few minutes to complete. For those with low pain tolerance or a fear of needles, a topical numbing solution can be applied to the injection site before treatment.
After
Results may take anywhere from three to ten days to be noticeable, but once they are, they can last for up to four months before another BOTOX® injection is needed. You should avoid laying down for the first few hours following treatment, so the protein has time to connect to the appropriate areas thoroughly and doesn't stray elsewhere.
Are There Any Side Effects?
Temporary redness and irritation may occur at the site of injection following your treatment, but these effects typically dissipate within ten minutes. Slight bruising may also appear within 24 hours of your BOTOX® injections. Though it is a rare occurrence, some patients report experiencing minor headaches following treatment.
Are you interested in seeing what BOTOX® can do for you? Dentistry at East Piedmont will administer your BOTOX® treatment safely to achieve your desired results. Contact us today to schedule your complimentary BOTOX® consultation!