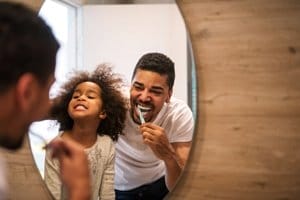 With the number of toothpastes that are available today, choosing one can be way too complicated. And they all come in different types and flavors and all claim to make your breath fresher and smile brighter.
So, how can you know which type is the right one for you? For most patients, it comes down to their individual needs and personal taste.
Factors to consider before you buy toothpaste:
Does it have fluoride? Fluoride is proven to reduce gum disease and cavities. It's the number one ingredient your toothpaste needs so your healthy smile can be maintained.
Is it ADA Accepted? The American Dental Association seal of approval signifies a toothpaste has been tested and verified to be a safe and effective product.
It's important to focus not so much on the brand and packaging but instead on the toothpaste features. We've created this essential guide to the best kinds of toothpaste so you can make an informed decision about which product is right for you.
Does the Toothpaste You Use Matter?
Short answer, yes. The toothpaste you use can make a difference when it comes to your oral health. Using these guidelines, you can determine the product that can meet your dental needs best, ensuring you and your family will maintain healthy smiles for life.
1. Toothpaste for General Use
If you have no major dental concerns and are looking to keep your breath fresh while preventing tooth decay problems, stick with general purpose toothpaste.
We suggest: Crest Pro-Health Original Flavor Toothpaste Clean Mint
2. Whitening Toothpaste
Tooth whitening toothpaste is ideal for those with stained teeth looking to brighten up their smiles. With this option, you can effectively get rid of surface-level stains as you brush your teeth.
We suggest: Tom's of Maine Simply White Natural Fluoride Toothpaste Sweet Mint
3. Toothpaste for Children
When it comes to your children's teeth, it's best to use a toothpaste specially created with their growing smiles in mind. For their safety, use the specific toothpaste for your child's age until they reach age 6 or 7.
For more information, read Colgate's Guide to Toothpaste Use in Young Children.
4. Sensitivity Toothpaste
If you suffer from tooth sensitivity, you may need to use a toothpaste designed to reduce sensitivity issues. The active ingredients in sensitivity toothpaste create a barrier of protection in your mouth – meaning it can prevent certain food and drinks from affecting your smile.
We suggest: Sensodyne ProNamel Fresh Breath Toothpaste
Ask Your Dentist
If you aren't sure what toothpaste option is right for you, consider talking to your dentist. After conducting a thorough examination, Dr. Patel can recommend which products are right for your smile.