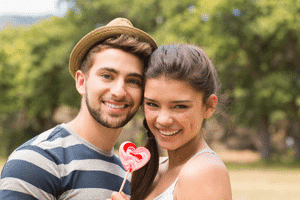 With Valentine's Day right around the corner, celebrating love on this romantic holiday means sharing sweets that can be delicious – but also harmful to your teeth.
Nobody wants to go through a yellowed smile or an uncomfortable toothache that could put a damper on your holiday celebrations. At Dentistry at East Piedmont, we believe a beautiful smile and healthy teeth go together like toothpaste and floss. You simply can't have one without the other.
So this Valentine's Day, use these guidelines for keeping your teeth clean while enjoying delectable Valentine's desserts. Remember, show your mouth and smile some love too!
1. Keep Your Breath Fresh
While stinky breath is typically a sign of a great meal, it's not the most attractive feature. If you've got a big Valentine's date, be sure to keep some floss on hand – that way, you can get rid of those pesky food particles and bacteria right away.
Keep in mind that bad breath can be an indicator of oral disease (or worse). If your stinky breath persists, it's time to see your dentist.
2. Eat Healthy
Keeping a balanced diet is crucial not only for healthy teeth and gums but healthy living, too.
So, if you're planning to indulge your sweet tooth on February 14th, go for the chocolate.
Specifically, the dark chocolate. Dark chocolate is better for your oral health than most candies, because it has less sugar than milk chocolate and doesn't tend to stick to the teeth.
Types of treats to avoid:
Gummy candies
Hard candies
Sticky caramels
The best time to enjoy candy? Just after, or during, a meal. That way, you won't constantly be exposing your teeth to sugar and other harmful bacteria.
3. Brush & Floss Daily
The key to keeping your mouth kissable throughout the year is by brushing your teeth twice a day, and flossing daily.
The bacteria caused by tooth decay can be contagious, so brush your teeth before you give your loved one a kiss! When you maintain good oral hygiene, you can freely share the love.
Bonus: Dental Tips for Date Night
Having a beautiful, kissable smile is important because, for most couples, Valentine's Day is one of the more significant date nights.
To reduce your risk for periodontal infection and freshen your breath, we advise using antibacterial mouthwash daily. You should make sure to drink plenty of water and consider avoiding staining drinks like red wine.
To touch up your teeth and to keep your smile looking great throughout a meal, you can also always bring xylitol mints.
Are you looking to surprise your sweetheart this Valentine's Day? With our teeth whitening services, you can look and feel your very best in no time at all! Contact Dentistry at East Piedmont online or (678) 648-4214 to discuss your teeth whitening options.