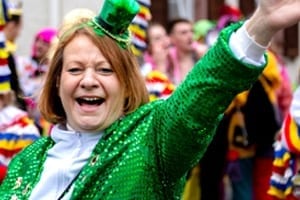 Happy St. Patrick's Day!
On March 17th, we will all be busting out the green shamrocks out again to celebrate St. Patrick with parties, parades and green treats. You may be planning a party of your own or an outing to celebrate the holiday, so we wanted to make sure that you consider your dental health during your St. Paddy's preparations.
Could a St. Patrick's Day party actually damage your teeth? The answer: YES!
We all love to treat ourselves during any holiday, but a heavy dose of artificial food coloring combined with heavy sugars can be harsh on your teeth, and those two things are often quite present in St. Paddy's day treats. Here are some tips to consider this March to make sure you don't spoil that smile!
 1. Avoid green food coloring.
In honor of St. Patrick's Day, many people participate in the "wearing of the green." This usually means adorning green clothes, but it also sometimes includes adding green food coloring to party treats to make green cookies, cakes, frostings and best of all, green drinks. These look festive, but adding artificial food coloring to your food can really damage your teeth.
This is especially important if you have recently had your teeth whitened. Your teeth are more susceptible to staining directly after a whitening session. Stay away from green goodies so that you don't end up with a greenish tint to your smile!
2. Go for natural green foods.
Avoiding artificially colored green foods doesn't mean you can't have an array of green dishes to celebrate!
When you plan your festive menu, consider naturally green foods instead:
Decorate the top of your cake with white icing and freshly sliced kiwi
Top cheese and crackers with green grapes
Make guacamole for an on-theme party favorite
These food items are just as green, just as beautiful and much healthier for your teeth. If you can't resist adding some color, try using limited amounts and be sure to brush your teeth after eating/drinking. 
3. Consider drinking a darker beer.
Many people will be drinking green colored beer on St. Patrick's Day that has been colored with food dye. Dark-colored beers cannot be dyed to look green, eliminating any staining concerns. To thoroughly wash off the effects, sip a glass of water between each beer. Your teeth will certainly thank you for it!
As with any holiday, it is especially important to brush and floss. Tooth decay is a large problem caused by the sugars found in beer and alcohol. St. Patrick's Day traditionally warrants an extra brushing before bed to be sure that the sugar from your libations is all the way off of your teeth before hitting the pillow at night.
Overall, HAVE FUN, and remember to take great care of your dazzling smile!