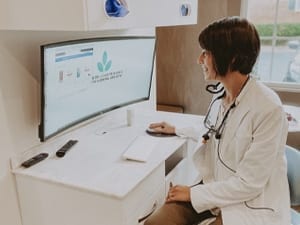 As cosmetic dentistry grows, the options when choosing a dentist are nearly limitless. But not every cosmetic dentist is as qualified to enhance and craft winning smiles, and expertise is just one of the many important factors you should consider when choosing the dentist that's right for you.
When looking for a dentist, you want to select a professional who puts your goals and expectations first.
1. Dedicated to Patient Care and Comfort
Receiving quality dental care might be one of your top priorities when choosing a dentist, but did you know that there might be a connection between the health of your mouth and your overall health?
Dental bacteria is a proven factor in several serious health conditions, like heart disease or diabetes. What's more, according to a report from the ADA, 42 percent of adults over 30 years of age have gum disease.
With that in mind, Dr. Patel and the Dentistry at East Piedmont staff are passionate about caring for every patient to achieve a lifetime of healthy, beautiful smiles. We complete an oral cancer screening, periodontal exam, cavity detection, digital X-rays, and more—all in the first appointment. The fully comprehensive approach to dentistry allows us to obtain a clear picture of your current dental health and determine what treatment is proper for you.
Rejuvenating smiles is our specialty, but we're also committed to providing our patients with total dental comfort. Our dental suites create a soothing environment to calm your senses and enable you to relax while dental procedures take place, whether it's a routine exam or a smile makeover.
2. Advanced Dentistry with the Latest Technology
Your comfort doesn't stop with in-ceiling entertainment and relaxing paraffin wax treatments. Our state-of-the-art technology is designed with you in mind. Dentistry at East Piedmont uses only the latest equipment to make your visits as comfortable as possible, like the STA™ System Painless Anesthetic system or CEREC technology to create crowns in a single visit.
Dr. Patel and the entire staff attend the best dental seminars around the country to continue their education and ensure you receive the most advanced care possible. Dr. Patel is one of five percent of dentists worldwide to have completed the Hornbrook Advanced Cosmetic Dentistry Continuum.
3. Top Rated by Patients Everywhere
Choosing a dentist comes down to trust.
You want to trust that your dentist is providing you with the ultimate care, trust that you can have honest conversations about your needs, and you also want to trust in their experience. That way, when you face emergencies and dental concerns, you rest assured knowing they are met with accommodating expertise and the availability of a dependable dentist.
So, what is one way to find a dentist you can trust? Read the reviews. Online, patients have the freedom to share their honest opinion of the care they receive in the dentist's chair.
When Dr. Patel started his practice, he had a new vision for patient care, with a simple philosophy in mind: treat every patient like family. As a result, we genuinely care about our patients, their smiles, and their well-being. That, plus our unmatched accessibility, is one of the reasons why our patients love us and keep coming back.
The Choice is Yours
If you're looking for a dentist that treats you like family, cares about you individually, and prioritizes your dental care and comfort, trust the committed staff at Dentistry at East Piedmont.
If you have any questions or simply want to learn more about the practice, Dr. Patel would love the chance to meet with you and answer any concerns you may have. So please request your free consultation online today!
Blog originally published August 2016 — updated August 2021.