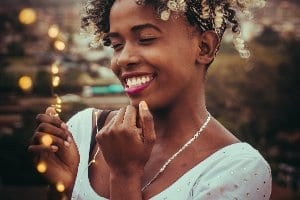 Are you ready for a #NewYearNewYou? There's no better way to feel brand new than with a fresh, improved smile.
If you're looking for the perfect way to jumpstart your new year, why not start by achieving the smile of your dreams? Whether you're concerned about aesthetics or oral health, Dentistry at East Piedmont has plenty of options to keep you smiling brightly in 2019.
Straighten Up Your Act
Crooked teeth can be a major confidence killer. While many people would love to straighten their smile, they dread the bulky and conspicuous look of metal braces. With Invisalign clear aligners, you can correct misalignment discreetly, so the only thing that people notice will be the results of your new, straight smile.
Bright & Cheery
One of the simplest and most effective ways to improve the appearance of your smile is by making your teeth sparkly and white. Though treatment is quick and convenient, professional teeth whitening provides drastic results that will have your teeth looking brand new. Feel free to drink all the red wine you want this New Year's Eve – just come in for a whitening service afterwards, and no one will be the wiser!
A Healthy Resolution
Many people commit to improving their health in New Year's resolutions, but oral health often falls to the wayside. This year, make sure you're covering ALL the bases of your health by taking care of your teeth, too. Scheduling regular dental cleanings is the best way to keep your smile healthy. Even better, this health resolution doesn't require a gym visit!
Brand New You
If you have multiple smile concerns you'd like to address, a complete smile makeover is a perfect option to reinvent your smile. This custom treatment can feature a combination of a variety of services from veneers to whitening and everything in between. Before a smile makeover begins, your dentist will assess your teeth and aesthetics to come up with a treatment plan built just for you.
Improved confidence and restored function are just some of the many benefits that come with receiving a new smile. If you're ready to make 2019 your year and achieve a smile you can't wait to show off, contact Dentistry at East Piedmont today!