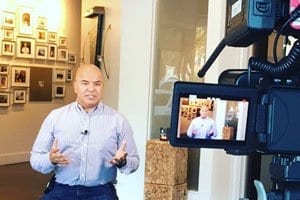 The popularity of cosmetic dentistry is growing every day, and with that, so is the number of cosmetic dentists. When selecting a cosmetic dentist, you want to be sure you can find a professional that you can completely trust.
We've outlined the most important things to look for in a Marietta cosmetic dentist, and why you should consider choosing Dr. Patel at Dentistry at East Piedmont:
1. Relationship-Oriented Dental Practice
The secret to excellent healthcare is a provider who genuinely cares about your well-being. If a dentist views their patient as just a transaction, they're not going to put their heart into their work. Trust and honesty are paramount to creating fulfilling results, so you'll want to ensure you have a real relationship with your dentist.
Your dentist should make themselves available not just at their convenience, but whenever you truly need their expertise. The team at Dentistry at East Piedmont is sure to be there for all your emergencies.
Dr. Patel started his practice wanting to do dentistry differently, with a specific goal to create a welcoming, trusting environment where patients feel like family. There's a reason our patients love us and keep coming back: It's because we are available and openly care about our patients, their smile and their well-being.
2. Complete Dental Health
Oral health isn't just important to your teeth; the state of your mouth can affect your overall health. Dental bacteria has been proven to play a factor in many severe health conditions, including stroke, diabetes, and heart disease. Healthy gums can lower your risk of developing pancreatic cancer, kidney cancer, and diabetes.
The link between oral health and general health means that quality dental care is more critical than ever. A qualified dentist will check for more than just cavities. At Dentistry at East Piedmont, we believe in a fully comprehensive approach to dentistry, taking extra care to ensure your overall health remains in the best possible condition.   
3. Advanced Technology & Total Comfort
The right dental practice should make you feel welcome and at ease. While a caring and qualified staff is of utmost importance, don't overlook comfort in your dental care. A relaxing environment with spa-like amenities does wonders for your experience.
Dentistry at East Piedmont is committed to creating an environment that leaves patients looking forward to their next dental visit. We offer luxury patient amenities, such as paraffin hand-wax dips, flat screen TVs with Netflix, a beverage bar, warm towels, and more.  
We also use contemporary dental technology to ensure your treatment is as painless as possible, including the Single Tooth Anesthesia™ System for patients who require sedation dentistry.
The Bottom Line
Whether your treatment is cosmetic or more general in nature, you want to go with a dentist who sincerely cares about you as an individual and wants the best for you. The dedicated staff at Dentistry at East Piedmont sees patients as family and is committed to doing whatever they can to provide the best possible dental care.
Have questions or want to learn more? Dr. Patel would love the chance to meet with you and answer any questions or concerns you have. Request your free smile consultation today.