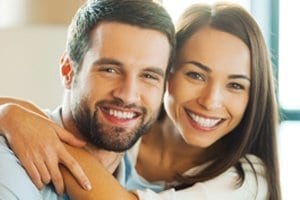 For most, the goal of a dental appointment is a healthy, attractive smile.
It's no surprise that the teeth can affect overall facial profile – they are the center of your face, after all. Studies show that about 99.7 percent of American adults believe a great smile is an important social asset.
A bright and beautiful smile is the primary objective, so you might as well get it done in a relaxing, comfortable atmosphere. At our office, we prioritize customer service from start to finish: Every patient who comes through our doors is treated like family. We are committed to providing outstanding dental care, using state-of-the-art technology and a spa-like environment to ensure your total comfort.
Here are just a few exceptional services that Dr. Patel and the entire Dentistry at East Piedmont team provide to meet your general and cosmetic dentistry needs.
Why Dentistry at East Piedmont?
Dentistry at East Piedmont was built on quality relationships and superior dental care. At our office, we live by one code – to treat each patient as if they were a family member, from working on their teeth to building relationships.
Not long ago, we placed porcelain veneers for a patient who had two missing teeth. As she was leaving, our office administrator noticed she had tears in her eyes, and asked her if anything was wrong. Instead of answering, she simply smiled and told her how happy she was to have her front teeth back.
For nearly sixteen years, we have provided patients with beautiful, healthy smiles as they experience the Dentistry at East Piedmont difference.
Total Patient Comfort
At our Marietta office, we make sure to use the most up-to-date technology and offer complementary dental-spa amenities to create a pleasant experience, no matter what the procedure. We also offer sedation dentistry to any patient suffering from dental anxiety.
With advanced digital imaging equipment, CEREC technology (enabling us to create crowns in a single visit), and in-ceiling entertainment, our office was designed with your comfort and convenience in mind. To ensure you receive the most advanced care possible, the entire Dentistry at East Piedmont team attends the best dental seminars in the U.S. every year.
Your Dental Needs, Met
Whether you're looking for a routine cleaning, brighter smile, or are in need of a restorative dental procedure, Dentistry at East Piedmont offers services to address all your dental needs.
Our goal is to do dentistry differently. And we accomplish that by putting our patients first, creating a custom dental plan built around each patient and their individual needs. Dentistry at East Piedmont provides comprehensive dental care, including cosmetic dentistry services, to help patients achieve the smile they want.
If you have any questions or simply want to learn more about the practice, Dr. Patel would love the chance to meet with you and discuss any concerns you have. Request your free consultation today!