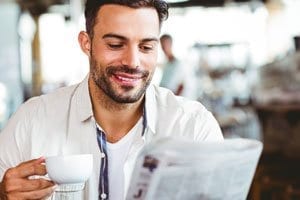 Everyone deserves to feel confident and comfortable with their smile.
According to the American Academy of Cosmetic Dentistry (AACD), a whopping 96% of adults believe that an attractive smile makes a person more appealing. The appearance of your teeth can also affect career success, with 74% of adults believing an unattractive smile hinders career growth.
If you weren't blessed with a naturally perfect smile, you're not the only one. More than 4 million people in the U.S. get braces; 25 percent of those cases are adults.
Worrying about the appearance of our teeth and what other people think about our smile leaves us feeling self-conscious. But thanks to modern cosmetic dentistry treatments such as porcelain veneers or teeth whitening, you have plenty of smile makeover options to boost your confidence and improve your smile.
Porcelain Veneers
Crafted from tooth-colored porcelain, picture perfect veneers are thin shells designed to cover the front side of your tooth. Veneers create the appearance of an entirely brand new tooth, giving you the classic "Hollywood smile" without as much effort as crowns or dental bonding.
With a similar look and feel as regular teeth, veneers are the perfect solution for cracked, chipped, misaligned or discolored teeth. They aren't for everyone though, so be sure to study the porcelain veneer process and consult a professional to learn if you are a good candidate.
Teeth Whitening  
Teeth whitening is one of the more popular and affordable options at your disposal for improving the overall appearance of your smile. Professional teeth whitening even helps to restore your tooth enamel by eradicating interior staining that can weaken your tooth's structure.
Through professional teeth whitening, your dentist will create custom whitening trays that are molded to your own set of teeth. This custom approach ensures even distribution of whitening materials with limited contact to your gums (as opposed to store-bought whitening kits) and prevents any materials from entering your bloodstream.
Dental Implants
Dental implants are the best option available for completely restoring missing teeth or teeth in very poor condition. Implants are more costly than the first two options, but the procedure is also more of a permanent fix.
This type of replacement procedure also may completely restore health and function of your entire mandible.
Are you in search of a cosmetic dentist in Atlanta, GA? Schedule a complimentary cosmetic dental consultation with Dentistry at East Piedmont to learn more about what options are best for reconstructing your smile and your confidence.