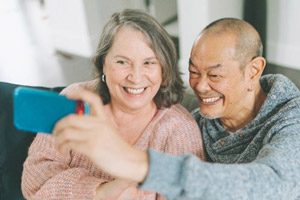 Imagine what it would be like to replace your removable dentures or unhealthy, damaged teeth with a beautiful new smile – all in just one day. With All-on-Four Teeth in a Day, all it takes is a single appointment to return your mouth and smile.
Traditionally, dental implant restorations can take multiple visits and months to complete. But with Teeth in a Day, you can leave your appointment with new teeth that feel and function like permanent teeth.
Teeth in a Day is a non-removable implant option designed to use the maximum amount of available bone. The procedure is conducted by extracting irreparable teeth and surgically placing as few as four dental implant posts (per arch) in strategic locations in the mouth. From there, the restorations are permanently attached.
A remarkably quick process, choosing the right dentist in Marietta that can provide you with an efficient, long-term solution for missing or irreversibly damaged teeth is incredibly important.
All-on-Four Teeth in a Day Benefits
Unlike traditional dentures, your Teeth in a Day restoration will result in a set of permanent dentures that you don't remove – eliminating the problems that are inherent to traditional dentures. You'll also be able to regain confidence in your smile right away.
No bulky acrylic. You'll be able to speak more clearly and enjoy the taste of food without the interference of a palate covering the roof of your mouth.
Better chewing capacity. With your new teeth, you can benefit from the kind of varied, comprehensive diet you need to enjoy better health and wellbeing.
Decreased costs and healing time. Fixed dental implants can reduce the need for extensive bone grafts or sinus lift surgery, lowering your overall procedure cost and time required to heal.
Improved health. Get rid of bacteria that makes you more prone to infection and disease such as diabetes and heart problems.
Maintain a healthier jaw structure. Your facial integrity is kept intact, preventing the irreversible bone loss that occurs with missing teeth.
Because a Teeth in a Day restoration is a permanent solution, you'll treat them as you would treat your natural teeth.
Teeth in a Day at Dentistry at East Piedmont
To make sure your Teeth in a Day procedure is as efficient as possible, your dentist will create a detailed plan beforehand. That way, when you arrive at our office on the day of your appointment, we'll have a firm grasp of every phase of your procedure.
Over the course of your appointment:
Your remaining teeth will be extracted
Your implant posts will be placed
Your new, permanent dentures will be immediately attached
In just one dentist's visit, you'll get a complete set of healthy, beautiful teeth. It's that simple.
Interested in learning more about Teeth in a Day in Marietta? Contact us online or call (770) 321-5558 to schedule your free consult and discuss treatment options with Dr. Patel. We'll be happy to answer any questions you might have about fixed dental implants and the Teeth in a Day procedure.