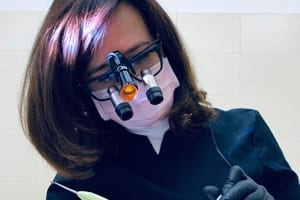 From overall oral maintenance to correcting smile problems and dental emergencies, having a trusted dentist as a part of your healthcare team is a must. While you likely already know the criticalness of regular dental visits, the type of dentist that is a good fit for your needs may be less apparent. Determining whether to see a general dentist or a cosmetic dentist will depend on your smile goals and what's important to you in oral health treatment.
What Is a General Dentist?
General dentistry tends to health-related oral matters such as oral hygiene and functional problems in the mouth. A general dentist's main focus is keeping smiles in working condition, without necessarily considering aesthetics in their applications. Certain cosmetic procedures such as professional teeth whitening can also be performed by a general dentist. Still, their range of aesthetic services will be less than that of cosmetic dental practices.
What Is a Cosmetic Dentist?
Cosmetic dentistry specializes in improving the look of their patients' smiles. These dentists have the ability to carry out complex cosmetic procedures such as total smile makeovers that drastically change the appearance of teeth. In many cases, general dentistry such as x-rays or professional teeth cleanings must be performed before a cosmetic treatment takes place. Cosmetic dentists have the skills and training to apply general oral health services while maintaining a natural, attractive look for patients' smiles.
Anyone practicing dentistry must receive a DDS or DMD degree, regardless of whether their focus is in general or cosmetic oral matters. Cosmetic dentists receive additional training by further pursuing education regarding care that is specific to the beauty of smiles. Because of this, cosmetic dentists are more than capable of addressing oral health concerns in extension to aesthetic services.
Our Marietta cosmetic dental spa fully addresses all oral health concerns while keeping the attractiveness of your smile top of mind. Contact Dentistry at East Piedmont today to set up a complimentary cosmetic consultation!