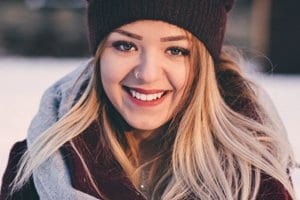 From yellowing to coffee stains, many of us don't have the dazzling white smiles we dream about. Even with the most thorough oral maintenance routine is, it's natural for the shade of your teeth to dull over time. Teeth whitening treatments are a great way to bring brightness back to your smile, and there are plenty of options available to achieve a megawatt smile.
One of the most efficient ways to whiten teeth is with the KöR teeth whitening system. This safe yet effective whitening treatment utilizes a potent whitening solution for drastic results with at-home trays for upkeep and convenience.
Why Choose KöR for Whitening Your Smile
KöR deep bleaching allows patients to receive the intense brightening effects of a professional teeth whitening treatment from the comfort of their own home. Not only does KöR's special gel dramatically whiten the shade of your teeth, but it also helps reduce sensitivity, which is a far cry from other whitening services that tend to heighten problems with sensitive teeth.
How KöR Whitening Works
Patients receive individually tailored mouth trays along with KöR's whitening gel solution. The customization of the trays ensures that no saliva gets in, which can deactivate peroxide, an active whitening ingredient, which makes teeth whitening gels much less powerful upon contact. The custom nature of KöR's mouth trays seals in whitening gel while simultaneously keeping out saliva, providing patients with the strongest brightening results possible. The whitening solution is kept refrigerated when not in use to prevent changing temperatures from lessening the chemicals' potency.
KöR offers four different variations of their deep bleaching system, with at-home trays being worn anywhere between two and eight weeks and sometimes being combined with in-office sessions depending on the severity of a patient's stains or yellowing.
Is KöR Deep Bleaching Right for Me?
KöR whitening is able to remove some of the deepest stains, even those caused by tetracycline, which were unable to be removed before KöR's deep bleaching system came on the market. If you're looking to bring your teeth several shades whiter and want long-lasting results, KöR is a perfect solution to your teeth whitening needs. However, those with veneers, porcelain crowns, fillings, or similar dental restorations in the front of their mouth should be wary about whitening. The materials in these restorations will not take to whitening, which will leave the shade of your teeth uneven. Patients under the age of 14 years old are also not suitable candidates for KöR deep bleaching.
Dull or undesirable teeth shades can make you feel ashamed of your smile, but bringing your pearly whites to their absolute pearliest is easy with KöR whitening treatments. Curious about whether KöR is the way to achieving your dream smile? Contact Dentistry at East Piedmont today for a free cosmetic consultation and we'll find the perfect teeth whitening solution for you.