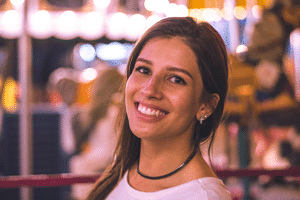 Almost everyone wishes they had a whiter smile, which is why teeth whitening is one of the most popular cosmetic dentistry services available. There are plenty of ways to bring your teeth's brightness up a few notches, from affordable take-home kits to in-office solutions that produce dramatic results, making professional teeth whitening a viable option for all patients.
Benefits of Professional Teeth Whitening
Achieving a megawatt smile will make your confidence soar, and there are many advantages to seeking the services of a professional cosmetic dentist:
It's Safe
Over-bleaching can lead to heightened sensitivity or even wear away at your tooth's enamel. An experienced dentist will achieve the results you're after without compromising the integrity of your teeth.
It's Quick
Drugstore whitening trays and toothpastes can take weeks or even months before a noticeable difference appears in the shade of your teeth. When you use professional services for your teeth whitening, you'll see a change after just one session.
It's Effective
Over-the-counter products just don't produce the same results as professional whitening services. You may be able to get your teeth a little brighter with these solutions, but professional teeth whitening is the only way to see a significant difference in the shade of your smile.
Teeth Whitening Pricing
As with most dental procedures, the cost of teeth whitening varies based on a few factors:
Your Oral Health
Your teeth will need to be healthy enough to withstand treatment, which means you must address any decay before the whitening process begins. Everything from gum health to cavities must be treated. The worse your oral health is, the higher the overall treatment price will be.
What Method You Choose
The different whitening options available provide different levels of success, and with that, a range of prices. Generally speaking, the more high-end the service is, the more drastic your results will be. Dentistry at East Piedmont offers professional take-home whitening kits for $189, Zoom! Whitening for $489, and KöR Whitening for $990.
The Shade of Your Teeth
If your teeth are badly stained or severely yellow, you may require multiple treatments to get your smile to the desired level of whiteness. Some discoloration cannot be corrected with traditional whitening, meaning you'll need a cosmetic dentistry treatment such as porcelain veneers to change the shade permanently.
A brighter smile can completely transform the look of your teeth. With so many different whitening options available, finding the right solution for your teeth whitening needs is simple. If you're interested in professional whitening services, contact our Marietta cosmetic dentists today to book a complimentary smile consultation.