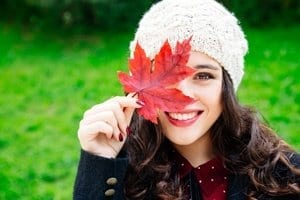 According to the American Academy of Cosmetic Dentistry, 99.7 percent of adults view their smile as a valuable social asset.
It's no surprise that more and more people are turning to cosmetic dentistry to improve and enhance their smiles.
Our Marietta office is known for creating beautiful, natural-looking smiles. We offer a wide variety of cosmetic dentistry solutions to address your dental problems, including:
1. Fix Chips, Cracks, or Gaps in Your Smile
Most everybody will chip, crack or break a tooth in their lifetime.
As your Marietta cosmetic dentists, we offer options designed to repair flaws in your smile.
For example, porcelain veneers can correct cracks, eliminate gaps and even provide you with straighter teeth. Made of durable porcelain, veneers are a lasting cosmetic solution for damaged or misaligned teeth.
2. Replace Broken or Missing Teeth
In addition to cosmetic complications, missing teeth can create a world of trouble, making it difficult to eat and speak comfortably.
With a smile-rejuvenating cosmetic dentistry treatment like dental implants (or dentures), you regain so much more than a new set of teeth!
Dr. Patel enjoys restoring the confidence that comes with an improved smile for his patients.
3. Improve Tooth Discoloration
You can brush and floss daily and still end up with a dingy, yellowed smile.
Factors such as eating and drinking habits or simply aging can cause tooth discoloration. But thanks to professional teeth whitening treatments, patients can achieve dazzling, long-lasting smiles in no time at all.
Using the safe and effective Zoom!® Whitening system, we provide both in-office and take-home whitening treatments for your convenience.
At Dentistry at East Piedmont, the first step in any cosmetic dentistry procedure is listening. We listen to each patient's concerns and goals before offering up treatment suggestions. If you're ready to achieve your dream smile, reach out to our office today!