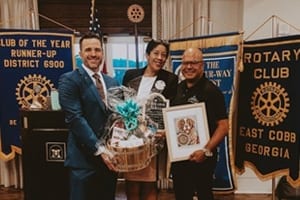 Dentistry at East Piedmont is honored to receive the 2019 "Partner of the Year" award from East Cobb Rotary Club for our participation in their annual 5k Dog Days race. The charitable run raises money for non-profit organizations in the East Cobb community. Dog Days' most recent event, taking place on August 3rd 2019, raised over $92,500 for charity, with our practice contributing $6,600 to the cause.
How We Help Others
Dentistry at East Piedmont cares deeply about making a positive difference for our community and the world at large. In addition to our annual participation in the Dog Days 5k race, we also seize other opportunities to help others as much as we can. Dr. Patel donates his dental services to those in need through an alliance with Flying Doctors of America.
In December 2019, our Marietta dental spa hosted "A Night with Santa" where people could take photos with Santa himself. We asked guests to make donations through a stocking drive for Foster4Love at this event to help spread cheer to children in foster care.
Another event we held last year was a giveaway called "Project Smile" where contestants could submit their story and reasoning for general and cosmetic dentistry services with the winner receiving a free smile makeover.
A Dental Practice That Cares
Dr. Patel founded Dentistry at East Piedmont with a mission to help others. In the wake of current events, our dental practice is offering free teledental appointments for all to help individuals maintain good oral health from the safety of their homes. Schedule your teledental appointment today, or reach out to us if you have any questions!