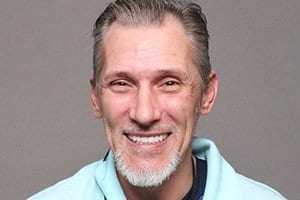 As one of Marietta's top cosmetic dentists, we frequently see patients who are concerned about how their smile looks. It's not uncommon for these patients to feel so embarrassed of the way their teeth look that they simply don't show off their full smiles.
Over the years, we've completed many smile makeovers that leave patients with a brighter, more confident smile. A smile makeover can involve a variety of procedures, as the treatment plan is customized to each patient's requirements and goals.
For a closer look at the outcome our smile makeover patients experience, we wanted to share Rob's case with you.
Before Treatment: Rob's Smile Problem
Rob's smile issues stemmed from an accident that damaged his teeth, and because he didn't have a dentist to correct the problem at the time, his oral health suffered considerably. His teeth were so badly broken that Rob had difficulty chewing food and was even losing weight because he could not maintain a regular diet. Rob said the state of his teeth, both aesthetically and functionally, led him into a depression.
That's when Rob knew he needed to seek treatment for his broken teeth, and Dentistry at East Piedmont was delighted to help Rob get back to a healthy, happy life.
The Results: Full Mouth Reconstruction
Because of the severe state of Rob's teeth, his smile makeover consisted of a full mouth reconstruction to improve the function and appearance of his teeth. First, Dr. Patel removed all his teeth so he could have a fresh start.
After removing Rob's damaged teeth, we then crafted a full set of dentures to match the patient's facial aesthetic, with help from Rob to determine the shade and shape of his new smile, achieving a completely natural look. The dentures are a permanent tooth replacement, providing beautiful, functional artificial teeth designed to last a lifetime.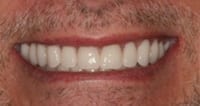 When the smile makeover was complete, Rob was glowing. Thanks to the full mouth reconstruction, Rob's smile is now fully functional, and he can eat all his favorite foods again. With a more rounded diet, Rob was able to gain some of the weight back he had previously lost.
Not only did our smile makeover correct Rob's smile concerns, but he now says he is much more confident and open to connection.
Is A Smile Makeover Right for You?
Ready to learn more? Check out these resources:
If you'd like to know more about how smile makeovers work and discuss potential options, contact Dentistry at East Piedmont today. Dr. Patel will perform a thorough visual exam to determine the best possible treatment based on your individual needs. Before crafting your custom treatment plan, we take time to learn about your concerns and desired results.
If you are ready to experience the benefits of a confident smile, contact us to schedule your free smile consultation.