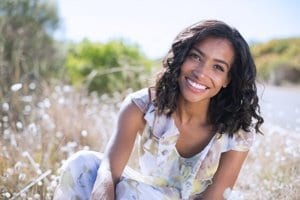 Crooked teeth are a difficult issue that can throw your whole appearance off. While traditional braces will remedy this issue by fixing your alignment, the bulky metal provides a new visual problem during treatment.
Adults, in particular, may feel embarrassed by metal braces, which can make you feel like you're back in middle school (something none of us is eager to relive).
The good news? You can correct your crooked smile without alerting the whole world. Invisalign clear aligners fix misalignment and straighten your teeth using a virtually invisible treatment.
Benefits of Invisalign
Choosing Invisalign offers advantages that aren't possible with conventional metal braces. The benefits extend beyond discrete treatment, however:
Simple Maintenance
Removability allows for easy cleaning and maintenance. No need to brush and floss around wires— just keep up with your usual oral health routine in addition to cleaning your aligners regularly!
Reduced Treatment Time
Traditional braces can take up to 5 years start to finish. Invisalign produces results within 12 to 18 months so you can enjoy your straightened smile sooner.
Related Blog: What You Need to Know to Know Before Proceeding with Invisalign
No Dietary Limitations
None of your favorite foods are off limits with Invisalign. Thanks to the removable plastic trays, you can remove the aligners during meals. For best results, we recommend you wear the aligners for 20-22 hours per day, except when eating, drinking or taking care of your smile!
More Comfort
Metal wires used in traditional braces can break and result in painful cuts in the mouth. Invisalign is designed to avoid such risk of injury, made with rounded, smooth material for optimal comfort.
Are You Ready to Straighten Up?
The best way to know if Invisalign is right for you is by consulting with an experienced cosmetic dentist.
Dentistry at East Piedmont offers free cosmetic consults where we will go over any questions you may have about the treatment and assess your overall oral health. Contact us today to schedule your free consultation!