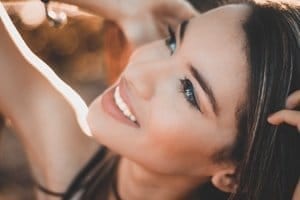 No-prep veneers are a non-invasive alternative to traditional veneers, allowing you to change your smile's appearance while conserving as much tooth enamel as possible.
This technique is best suited for fixing gaps and spaces or as an addition to small or short teeth.
The Process
The process for receiving no-prep veneers is simple and achieved in just two visits:
During your initial appointment, your dentist will take impressions of your teeth to make a mold, which is then sent to the lab so that your custom veneers can be made.

For your second visit, your dentist will place your veneers to ensure the fit is just right before permanent placement.

Once you have given your approval, your dentist will etch your teeth and place the veneers individually.
Advantages
Convenience aside, no-prep veneers have many notable benefits:
Less Invasive
The procedure is significantly less invasive than traditional veneers. Your dentist only needs to cut down, file, or grind down minimal amounts of the tooth, if any at all. Because drilling is not required, there is no need for an anesthetic injection.
Conservative
No-prep veneers are a good option if you're concerned with conserving tooth enamel. No enamel removal significantly decreases the likelihood of developing sensitivity from the procedure.
Reversible
For those worried about making an irreversible change to their smile, no-prep veneers can actually be removed. Note: Although removal is possible, the procedure cannot be reversed without some damage to your enamel.
Stronger Bond
The bond of the porcelain to the teeth is stronger than it is with traditional veneers because the veneer is bonded directly to the enamel, rather than to the dentin.
Disadvantages
To determine if this treatment option is right for you, it is crucial to both consider the benefits of no-prep veneers and be aware of the disadvantages.
No-prep veneers cannot produce as drastic results as traditional veneers.

Because no-prep veneers are translucent, your original tooth shade will still be visible after the procedure. We recommend patients have their teeth professionally whitened in advance.



No-prep veneer candidates must have even smiles in optimal condition.

To be a viable candidate, your teeth need to be absolutely straight and in good oral health.



No-prep veneers can be costly.

Due to production costs, no-prep veneers are more expensive than traditional ones.



No-prep veneers bulk up a smile's appearance.

Without any tooth reduction, veneers can add bulkiness to your smile, especially if your teeth are already on the larger side.
No-prep veneers are just one of the many cosmetic solutions we provide at Dentistry at East Piedmont. To find out more about this procedure and learn if no-prep veneers a good fit for you, schedule a complimentary consultation today.