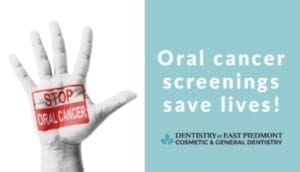 The OralCancerFoundation.org estimates that approximately 50,000 individuals will be diagnosed with oral-oropharyngeal cancer this year.
Of that 50,000, this type of cancer will be responsible for taking the lives of upwards of 9,500 Americans, or approximately 1 person per hour, 24 hours a day. The average life expectancy with a late-stage form or oral cancer is roughly 5 years. Sadly, this number has not changed by any positive amount in decades.
Oral cancer is not solely identified as "mouth cancer." It includes many forms of cancer that affect the head and neck, with the exclusion of brain cancer. What many people don't know is that this cancer is considered to be highly lethal due to its difficulty to diagnose. Most individuals aren't even aware of their condition until it has become more severe and late-stage. Because of this, patients often times do not present any treatments to a physician until the cancer has spread to the lymph nodes of the neck.
April is Oral Cancer Awareness Month. Dentistry at East Piedmont is Offering Free Oral Cancer Screenings in the Month of April. Don't Wait: Call 770-321-5558 Today!
There are typically two ways in which most people come to find that they have the cancer.  The use of alcohol and tobacco are historically the most notorious triggers. The second pathway is through the exposure to the HPV-16 Virus, which is a newer known-cause.
Men are more commonly diagnosed than women. And though individuals over the age of 40 traditionally have a higher risk, the past decade has proven to us that this cancer is no longer discriminating against any age. While it's a smaller percentage of individuals with no family history and no history of alcohol or tobacco use, there are still thousands of people who are diagnosed on an annual basis.
While many people view oral cancer as a "rare cancer," somewhere around 130 people are diagnosed every day in the United States. The good news? If the cancer is diagnosed at an early stage, there is an 80%-90% chance of survival.
Signs to watch for include:
A canker sore that lasts more than 2 weeks
A chronic raspy voice lasting more than 2 weeks
Swollen glands behind the ears or the base of the neck and back
A sore on the tongue or gums
It never hurts to seek medical attention for something that may cause worry.
Please protect yourself and your loved ones. Call 770-321-5558 today to schedule your complimentary screening!