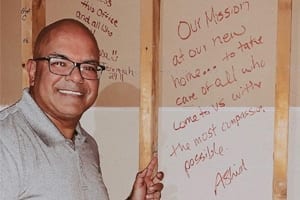 We're excited to announce that Dr. Patel has been chosen as one of the Top Dentists in Atlanta by Atlanta Magazine for 2020! The accolade is established by a peer-review survey from other Atlanta professionals in the dentistry field. 2020 marks the third year in a row that Dr. Ashish Patel has been granted this prestigious honor.
What's New at Dentistry at East Piedmont
Racking up awards such as a "Top Dentist" from Atlanta Magazine and 2019 "Partner of the Year" from the East Cobb Rotary Club is only one of the exciting happenings to recently occur at our Marietta dental spa. This past December, we relocated to a larger office that gives Dentistry at East Piedmont more space, which we use to provide a special surgical suite for patients and a teaching facility for staff members.
In August of 2019, we had the pleasure of growing our team by bringing in the renowned Dr. Dahlia Levine; her advanced training allows us to now offer relaxing sedation dentistry options to our patients.
We've also unrolled new ways to administer patient care via online portals. Our Virtual Smile Consultations help people determine which cosmetic treatments are right for them. At the same time, Dentistry at East Piedmont's teledental service addresses oral health concerns without compromising the practice of social distancing.
The past twelve months have resulted in plenty of advancements and opportunities for innovation at Dentistry at East Piedmont and we can't wait to see what the future holds! If you're curious about our services or want to learn more about our dental practice, don't hesitate to reach out any time!