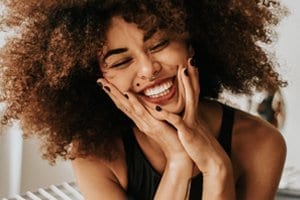 Cosmetic dentistry addresses patients' aesthetic smile concerns, with treatments ranging from the correction of smaller issues such as teeth whitening to more dramatic teeth transformations like the use of porcelain veneers to perfect your smile.
Cosmetic dentistry can increase your confidence and even improve specific general dentistry problems.
Does Insurance Cover Cosmetic Dentistry?
Since cosmetic dentistry addressed aesthetic concerns rather than medical ones, most insurance companies do not cover treatment. However, certain cosmetic dentistry services overlap with general oral health needs and therefore, may be covered by your insurance plan. Talk to your insurance provider about which dental treatments are under your plan to see if they'll help pay for the costs of your desired cosmetic dentistry care.
What is the Cost of Atlanta Cosmetic Dentistry?
As there's such a wide array of different cosmetic dentistry services available, there is no single price point for the confidence booster. The following factors will play a role in how much treatment costs:
Treatment Time
Some cosmetic dentistry services can be completed in a single visit, while others will require multiple visits to achieve the desired results. The more time and effort your dentist must put into your smile transformation, the more expensive it will be.
Materials Used
There are often multiple options for cosmetic dentistry treatments, and which materials are used to create your new smile. For example, veneers are made from composite resin or porcelain, and whichever you go with will impact both the results and the price of treatment.
Read our blog "How Much Does Cosmetic Dentistry Cost?" to learn more about what circumstances affect cosmetic dentistry prices.
Finding an Affordable Cosmetic Dentist in Atlanta
When looking for a cosmetic dentist in your area, find one that provides the services you need for a stellar smile and who has flexible financing plans that fit within your budget. A good dental practice will do their best to make achieving a dream smile not only easy but affordable.
The only way to find out the true price of your cosmetic dentistry treatments is to consult with your dentist. Dentistry at East Piedmont offers complimentary cosmetic consultations to assess your oral health and personal aesthetic preference to create a treatment plan that works for your smile and your wallet. Contact us today to set up an appointment!