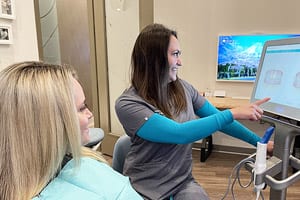 When most people think of a dentist's office, a cold and clinical environment with harsh fluorescent lighting comes to mind. While this may ring true to your standard dental practice, dental spas go a step beyond oral health services by ensuring their environment is built with patient comfort in mind.
Why Choose a Dental Spa
Though the idea of a dental spa might seem like an unnecessary luxury, the added thought in both environment and offerings has plenty of benefits to patients' well-being:
Reducing Anxiety in Dental Patients
Plenty of people suffer from dental phobia, with some patients' anxieties being so severe that they try to avoid visiting the dentist altogether. A relaxing environment can go a long way in soothing anxiety. By creating a pleasant atmosphere and paying special attention to comfort, dental spas can help patients with dental phobias feel more at ease during their visit.
Painless Treatment
There's more to a dental spa than lux amenities. Our Marietta office uses cutting-edge dental technology for services that won't make you flinch. One such high-tech device at Dentistry at East Piedmont is the Single Tooth Anesthesia (STA™) System, which delivers anesthesia with just a single, small injection for the most pain-free numbing process.
Dental Spa Amenities
Atlanta dental spas have different offerings; however, they all have one goal in common – to provide an overall pleasant experience while addressing oral health. Here at Dentistry at East Piedmont, we cater to our patients' comfort with a variety of amenities, including:
Soothing Environment
Your surroundings play a big role in your experience, which is why we designed our office with relaxation in mind. From calming waterfalls to scented candles, every detail at Dentistry at East Piedmont's practice aids in creating a comfortable ambiance. Our waiting area features a complimentary beverage bar and paraffin hand waxes that will have you eager to arrive early and take advantage.
Sedation Dentistry
Those with extreme dental phobia will take comfort in our sedation dentistry options that help ease anxiety. We offer nitrous oxide and oral sedatives for patients that need a little extra calming during their visit. Sedation dentistry can also be beneficial for people with a strong gag reflex.
Comfortable Dental Suites
Our dental suites are equipped with everything you need to stay at ease during your visit. Noise-canceling headphones and Netflix are available in each suite to eliminate any unnerving noises and keep you entertained. Cozy blankets and warm towels are also provided for a truly restful experience.
Visiting the dentist doesn't have to be a chore. When you go to a Marietta dental spa, you can keep your oral health in check, achieve a beautiful smile, and enjoy the experience, too. Are you ready to experience the benefits a dental spa has to offer? Contact Dentistry at East Piedmont today to schedule a complimentary cosmetic consultation!