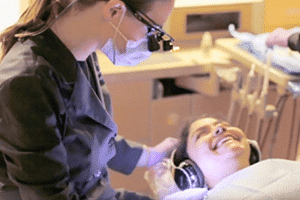 Your healthcare practitioners are responsible for your well-being, so it makes sense that many patients grow attached to their doctors and feel a sense of loyalty once they've established a good relationship with them.
Finding a new dentist can be nerve wracking, which is why Dentistry at East Piedmont goes above and beyond to make our new patients feel right at home as soon as they step foot in our practice.
Our dedicated team of qualified dental professionals sees our patients as family and does our best to ensure that the feeling is mutual. Here's what you can expect from your very first experience with our practice:
Getting to Know You
The moment you walk through the door you'll be greeted by our patient coordinator, who will bring you to the consultation room and go over your dental history with you. Before your appointment, you will fill out a new patient form to provide our office with some general background information before our first meeting.
Office Walk-Through
From there, we'll take you on a tour of our office so you can get a better feel of the environment. During your walk-through, you'll see our dental suites featuring massage chairs, blankets, and flatscreen TVs with streaming services. You'll also see luxurious amenities such as the paraffin hand wax service, and an up-close look at the state-of-the-art technology we use for treatment, like our CEREC machine.
Assessing Your Smile
Once you've had a chance to familiarize yourself with our office, one of our dental hygienists will take a series of x-rays and photos of your mouth as well as measurements of your gums and bone to determine what type of cleaning you'll need. From there, Dr. Patel will perform a comprehensive oral evaluation, inspecting everything from your tongue to your gum health and all your teeth individually.
Next, your dentist will bring you to the treatment coordination room so you can go over the x-rays and photos together. At this point, you will bring up any concerns you may have regarding your oral health, and your dentist will do the same. After discussing your oral health, your teeth cleaning will be scheduled for a future date. If any treatment is necessary, your dentist will go over the options with you, creating a customized treatment plan and schedule that fits your needs.
Here at Dentistry at East Piedmont, patient comfort is our #1 priority. By taking the time to get to know our patients both medically and personally, we are able to create a pleasant experience that will leave you smiling from ear to ear. Are you searching for a new Marietta dentist? Schedule an appointment with us today!