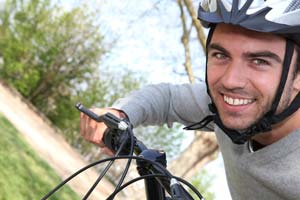 Whether you have gaps and breaks in your teeth that you're looking to correct or a misalignment that's given you trouble for years, with today's cosmetic dentistry treatments, you don't have to settle for an imperfect smile.
Cosmetic procedures like dental bonding and porcelain veneers can transform your smile into a beautiful, fully-functional grin you'll love. When it comes to your smile, the choice of veneers or bonding can make all the difference.
To start, here's a simple definition of each treatment:
Dental Bonding

 is the process of applying a tooth-colored resin material to one or more of your teeth.

Porcelain Veneers

are made up of an incredibly thin material that matches and covers the outer surface of your teeth.
Bonding and veneers are two of the most popular cosmetic dentistry procedures available for those looking to enhance their smile. Before you determine which treatment is right for you, it is important for you to understand the differences between the two.
Pros and Cons of Porcelain Veneers and Dental Bonding
Deciding on the right smile makeover treatment is often a combination of your smile needs, personal goals and budget. Here are a few factors to consider.
1. Appearance – Porcelain veneers are translucent, which means they allow light in and easily mimic the appearance of natural teeth. The translucent material replicates several natural characteristics of your enamel as well. The material used in dental bonding on is a unique plastic mixture called composite resin. Some patients may consider the tooth-colored material to be less natural than veneers because it is not translucent, and over time can become stained.
2. Permanence – The average porcelain veneer is incredibly durable, lasting about a decade. However, with proper dental care and maintenance, veneers can last for anywhere from 16 to 20 years. Alternatively, teeth bonding can last anywhere from 2 to 7 years, depending on how the material was blended.
3. Cost – Traditionally dental bonding is far less costly than porcelain veneers. If you have certain budget limitations, the affordability of bonding may be a factor to consider. Keep in mind that at Dentistry at East Piedmont, we offer third-party treatment financing programs to help patients get the care they need.  
The Best Choice
So, which one is better for your smile makeover?
If you're undecided between the two cosmetic dental procedures, your best bet is to have a conversation with your dentist. At Dentistry at East Piedmont, we offer complimentary cosmetic consultations, where we'll discuss your smile needs, assess your facial features and create a treatment plan that aligns with your goals.
To find out more about our custom smile makeovers and schedule a consultation with your Marietta cosmetic dentist, contact the Dentistry at East Piedmont office today.